Avoiding sweets can improve your mental performance



White death and the source of all the troubles of modern man, sugar, both refined and unrefined, is often criticized by nutritionists and doctors. The list of his "crimes" includes obesity, diabetes, high blood pressure, caries, and much more.

However, less often people talk about the negative impact of sugar on a person's cognitive abilities – and this is probably the most telling point in favor of saying a clear and reliable "no" to yourself the next time you think about an extra portion of hot chocolate.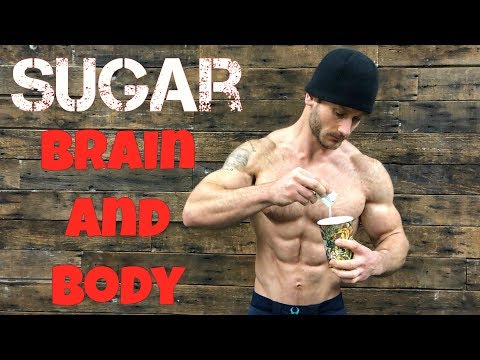 Click on the image to see Video:
What Sugar Does to Your Brain & Body: The Truth About Sugar
Sometimes you feel that you are slowing down? Forget important things? The cause may be regular sugar. It affects cognitive abilities and mood more than we are used to thinking, and addiction to it is very similar to nicotine.

How and what aspects of our mental activity are affected by excessive sugar consumption – we find out in this article and present interesting research on how sugar affects the brain.
Sugar makes the brain slow
Sugar impairs your ability to make decisions. In 2017, scientists studied how a person copes with simple tasks after consuming sugar.

Glucose and sucrose reduced the ability to find the correct answer, especially in those who did not eat for several hours before the test.

In this case, the subjects did not eat a piece of cake. They were given a glass of sweetened drink, which was no more than 25 kcal.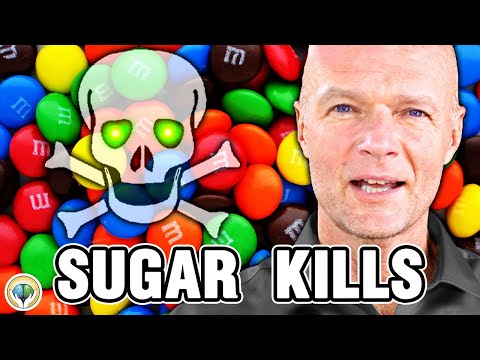 Click on the image to see Video:
Top 10 Ways Sugar Addiction Actually Destroys Your Brain and Makes You Fat & Senile
Sugar blunts attention, even if it is very little. If you are going to have an exam or interview, it is better not to eat anything sweet. Then you can celebrate.
Sugar contributes to the destruction of neurons
Studies have shown that high blood glucose levels increase the risk of dementia. Even those who don't have diabetes.

When a person often eats sweets, the level of insulin increases. This overloads the cells. This is how resistance to the stimulus is formed. You need more sweets to get the same feeling of joy.

When the brain cells become resistant to insulin, the person begins to lose memory and become disoriented. Over time, this develops into Alzheimer's disease. It is also called type 3 diabetes.

Do you think that the same warning will be placed on sugar-containing products in 10 years, as it is now on cigarettes?
Click on the image to see Video:
Why sugar is bad for your brain
Sugar addiction is as strong as drug addiction
In a 2017 study, scientists claim that neurochemical changes in the brain after consuming sugar are similar to those that occur after taking drugs.

After giving up sugar, there are the same signs as after giving up opium or nicotine, including anxiety.

Cigarettes were once considered harmless until science proved otherwise. Perhaps in 10 years, the harm of sugar to the brain will be as obvious as the harm of cigarettes to the lungs is now.
Sugar triggers depression
Scientists conducted a study that involved 23,245 people. Among those who consumed more sugar and sweetened beverages, depression was 23 % more common.

This result did not depend on the lifestyle, the availability of excess weight or diseases. Interestingly, depression was more often found in men than in women.

In the risk group — not only fans of soda: if you drink 4 cups of coffee or tea a day and pour 3 tsp of sugar into each of them, you will get about the same effect as from a bottle of Cola.

Sugar is the worst food additive. Sweet white crystals contain no nutrients and supply our bodies with empty calories. Excessive sugar consumption is harmful to health, provoking the development of a huge number of diseases from diabetes to certain types of cancer. Moreover, as scientists have recently discovered, sugar destroys the brain's genes.
Sugar destroys the genes of the brain, the researchers found
Everything we eat does not remain unnoticed by the body. We regularly eat chocolate bars with complete calm, not realizing that it is, in fact, not a food, but a certain product that causes certain changes in our brain — sharply increases the level of sugar, after which it also falls sharply.

"Taking sweets" affects the same parts of the brain as drugs. They are short-term fun and addictive.

Maybe you should think about the fact that our body is composed of products that we eat?

After all, everything we put in our mouths causes certain reactions, just like pills. For example, cottage cheese supplies the body with calcium, which is necessary for bones, teeth; oranges provide vitamin C, which is necessary for the absorption of iron and the production of hemoglobin, etc. This is a building material. What does sugar give us?

I would also like to emphasize that high amounts of sugar are usually found in low-fat products. Fat is removed from such products, but sugar is added to improve the taste.

Scientists do not tire of repeating about the harm of sugar. According to a recent study, excess sugar destroys the brain's genes.

Experts from the University of California, Los Angeles, found that fructose has a destructive effect on the brain's genes. Changes in genes lead to the development of diseases. However, scientists have also found that omega-3 fatty acids restore changes caused by fructose.




The body is not able to produce enough omega 3 to prevent diseases, so it is better to use this substance in addition. The largest amount of omega 3 is found in wild salmon (farmed this substance is not enough), some types of nuts, fruits, and fish. These acids improve brain function and stimulate memory.

Americans absorb most sugar through foods high in corn syrup, as well as through sugary drinks, cakes, and honey.

Scientists do not tire of repeating that the use of sugar is harmful to health. Excessive amounts of fructose cause changes in the brain's genes, which negatively affects the ability to learn and remember information, hence, we become stupid.

Scientists conducted an experiment with rats that were fed foods with a high sugar content. After some time, they were able to record a deterioration in memory and a decrease in emotional arousal in their subjects. In the future, similar processes were detected in humans. As it turned out, frequent consumption of foods rich in carbohydrates reduces the tone of the hippocampus – the brain center responsible for memory.

To test the harmful effects of sugar on the body, scientists conducted tests on rats. The task was to investigate how sugar consumption affects memory, as well as make sure that omega 3 really neutralizes the harmful effects of excess sugar.

Previously, the experimenters trained the rats to pass through the maze. Then the rats were divided into 3 groups.

Over the next 6 weeks, experiments were conducted:

The first group was given water enriched with fructose (in quantities comparable to the consumption of 1 liter of sweet soda by a person).

The second group was also given water with fructose but at the same time fed food rich in omega 3 fatty acids.

The third group was given regular water and no fatty acids.

After 6 weeks, the rats went through the maze again. The first group of rats that consumed fructose went through the maze twice as slowly as the third group, which lived without fructose and without omega 3. This proves that sugar has impaired memory function.

The second group showed the most surprising result: these animals passed the maze almost as quickly as the group that did not use sugar. It turned out that omega 3 acid is useful for the brain and is even able to reverse the changes caused by sugar.

Other studies on rats have found that rats that receive large amounts of sugar have increased amounts of glucose and insulin in their blood, which leads to obesity, diabetes, and other diseases.

The team also sequenced more than 20,000 genes and found changes in 700 genes in the hypothalamus (the main center for regulating metabolism) and 200 genes in the hippocampus (which helps regulate learning and memory). Such changes can lead to Parkinson's disease, depression, bipolar disorder, and other diseases.

Previous research by scientists has shown that fructose destroys neurological connections between brain cells and increases the number of toxic cells. In the long term, these changes reduce the brain's ability to learn and remember information (cognitive functions).

Despite the positive effect of omega 3, do not consider this substance as a magic wand to eliminate the effects of fructose. Scientists emphasize that more research is needed to explore the possibilities of this acid to cancel out the harm from sugar.

The best result of memorizing the way out of the maze was shown by a group that drank water - even without consuming omega 3. Therefore, if you want to be intellectually developed and have the ability to learn new things, adapting to our increasingly complex world — reduce your consumption of sweets.
How to get rid of sugar addiction as soon as possible?
1. Replace the source of pleasure
Eating sweet food provokes the release of endorphin into the blood — the hormone of joy and pleasure. However, this substance can be obtained in another way, for example, going to the fitness club. Physical activity also contributes to the production of happiness hormones.

To distract, for example, your child from sweets, you need to replace the pleasure of eating with other pleasures: for example, a trip to fishing, a trip to an amusement park, and so on. The more tired and happy the baby returns home, the less likely it is that he will start begging for sweets.
2. Don't forget about proteins
Include more protein in your diet: these foods will help you get full faster and avoid feeling hungry for longer. Try to eat meat, fish, or dairy products for breakfast and lunch. Dietitian Christine Herbstadt claims that cold turkey helps to get rid of cravings for sweets.
3. Don't be nervous
Often the cause of craving for sweets is stress. Serotonin and magnesium, as well as B vitamins, help to cope with it. If you realize that you are beginning to "eat" endless problems with cakes, contact your doctor: he will find out what substances your body lacks, and prescribe the necessary medications.

As for products, legumes are rich in magnesium. Vitamin B can be found in nuts (such as pine and walnuts), fish and seafood, beef, and lamb liver. In general, try to relax as much as possible and not worry about every little thing.
4. Eat some red fish
Nutritionist Marilyn Glenville believes that an irresistible urge to eat chocolate is probably a cry for help from your body, which is trying to report a lack of chromium in this way. To check if this is so, try instead of the usual sweetness, eat something more healthy with a high content of this element, such as broccoli or red fish.
About artificial sweeteners
Sweeteners taste similar to regular sugar, but they have fewer calories. Therefore, they are actively used in dietary products, and those who just want to lose weight, add artificial sweeteners to tea, coffee, and homemade food.

Over the past 30 years, scientists have been actively studying the effect of sugar substitutes on weight, appetite, and human health. Here's what scientists know about the most popular sweeteners:
Aspartame:
200 times sweeter than sugar. Allowed in the US and Europe. According to a 2016 study, aspartame affects glucose tolerance and can cause serious health problems.
Sucralose:
600 times sweeter than sugar, recognized as safe in the United States and Europe. But in 2017 studies, there is evidence that sucralose can harm the bacterial environment of the gut and even in small doses lead to weight gain.
Saccharin:
300-400 times sweeter than sugar, recognized as safe in the United States and Europe. But in 2017, scientists found that saccharin can cause liver inflammation.
Sodium cyclamate (sodium salt of cyclamic acid)
: 30-50 times sweeter than sugar, banned in the United States, it can not be used by pregnant women. But in some countries, sodium cyclamate is on sale: if you use a sweetener, check the composition.
Stevia:
a natural vegetable sweetener, 200 times sweeter than sugar. In a 2015 study, there is evidence that stevia, like saccharin, leads to weight gain and eating disorders.

Canadian scientists in 2017 studied the results of various studies on 400,000 people who used sugar substitutes. And they found that the consumption of sweeteners led to an increase in the number of cases of obesity, hypertension, metabolic syndrome, and cardiovascular diseases.

This effect can be explained by the fact that sweeteners change the perception of taste: the ability to recognize the sweetness, fat content and caloric content of foods deteriorates. If the sense of taste is distorted, there is a risk of eating more than necessary.

In 2018, evidence appeared that artificial sweeteners could cause diabetes. The mechanism of their action is different from regular sugar, and scientists continue to study how sweeteners change metabolism.
Forewarned is forearmed.