Logan Sneed is a survivor of terminal brain cancer and an entrepreneur whose business witnessed a six-figure income and that too before him turning 21. Logan was diagnosed with Stage IV Glioblastoma, a terminal brain cancer. But this did not make Logan lose hope in life. He bounced back, reinvented himself, pursued his dreams, and became an inspirational public speaker.

Another unique thing about Logan Sneed is that he is a devout Keto dieter. His swears by keto and is a ketogenic expert and has recounted numerous times that keto helped him to get back into his old life routine by beating Glioblastoma! Let's read more about him, shall we?

On March 26th, 2016, Logan Sneed's life changed forever. He had no idea that a meteorite was going to hit his life. But more than that he had no idea that he would be so brave as to grasp the meteor by his bare hands, throw it away, and save his own life. The meteor is this analogy is stage IV glioblastoma or known by the common man as brain cancer.

Overnight, Logan went from being a high school athlete and a freshman in college to a person suffering from brain cancer. And not just any brain cancer but one of the deadliest terminal brain cancers.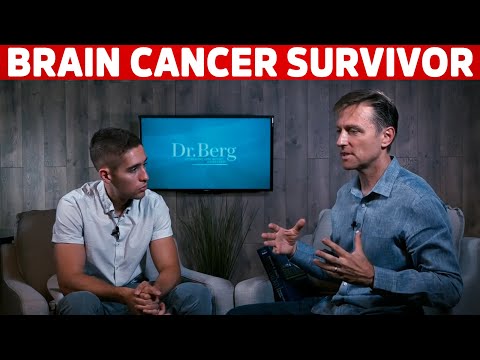 Click on the image to see Video:
The Ketogenic Diet & Brain Cancer: Brain Cancer Survivor Logan Sneed
After his diagnosis, doctors informed him that he doesn't have much time as he was already in stage IV. And even if he did survive, his life would change as he would no longer be able to go back to his previous life. He had an egg-sized mass in his brain and that is definitely bound to make your life different and permanently altered.
How did Logan Sneed realize he had cancer and what he did after?
One day, when Logan was home during his spring break, he was driving and FaceTiming his girlfriend when he suddenly had a seizure in the middle of the road. Fortunately, he drove off the road into a ditch without any injury. Since his girlfriend was on call, she requested an ambulance, and Logan was taken to the hospital.

Doctors thought Logan was on drugs because physically there was nothing wrong with him. There was no reason he would have had a seizure. When they couldn't find anything, they decided to take a look at his head as a precaution.



Click on the image to see Video:

2 MEALS A DAY | INT Fasting + KETO
To their surprise they found a big mass inside his head. They couldn't ascertain at first whether it was just a mass, a tumor, or a benign tumor. The doctors suggested that a neurosurgeon take a look at it. Logan was devastated. In a podcast with Adap Nation, Logan recalls the moment precisely.

He says that the news just hit him hard because one-minute he was this happy young chap and the next minute he was handed over with a death sentence. He was attached with machinery at the back which weighed almost 100 pounds and he had to walk around with it for weeks.

He felt worthless. He felt like a burden on the world, on his parents. He felt like he was just wasting everyone's time and money as no amount of treatment and money could save him now. His life had altered completely and he could do nothing. Anybody, who hasn't experienced something similar, would never understand the pain and the ignominious feeling.

The neurosurgeon, considering the size of the mass, immediately recommended surgery. A brain surgeon whom Logan met in Austin, Texas, went on to further add that if Logan decides to have this surgery, then he would no longer be able to speak or hear ever again. Logan fell like somebody shot him right at the chest.



Click on the image to see Video:

THE RIGHT VS. THE WRONG WAY TO DO KETO!
Logan and his family then went to meet another brain surgeon, the best in the world. This surgeon assured Logan that if he is doing the surgery then Logan doesn't need to worry about losing his speech or hearing abilities.

This brought back some hope into Logan's life. The brain surgeon performed a 7.5 hours surgery to remove 100% of Logan's tumor.
Logan recovered pretty fast after the surgery. He started his fitness routine again.
How did Logan stumble upon the Keto Diet?
On a random day, Logan's life changed again. But this time it was for the better. He has always been interested in good nutrition but cancer honed his interest in food even more. Now he just didn't need food that would help him build muscles. Now he needed food that will not only help him to bulk up but also help him prolong his life and live a healthy fit life. He wanted to consume foods that will keep cancer from returning again.

And that's how he stumbled upon keto. One fine day during the time when he had to visit the hospital for intensive radiation therapy and chemo sessions, his friend and mentor Chad offered to take him out of the hospital and to the river. Logan jumped at the prospect as the idea of being away from the hospital appealed to him.






Chad was his friend and mentor whose guidance made him the athlete he is. But the greatest contribution that Chad would make into Logan's life was introducing Logan to the ketogenic diet.

That day when Chad offered to take Logan to the river, Logan agreed without thinking twice. Although Chad's chemo was already done, he still had numerous seizure medications that he had to consume regularly as well as regular MRIs to keep his cancer in check. That afternoon he was opening himself in front of Chad.

He was telling Chad about how insecure he felt regarding his health. He constantly worried that cancer would come back and destroy his life. Chad listened to all this with patience. In the end, Chad asked Logan one question. The question was, "Have you ever heard of the ketogenic diet?" And that changed Logan's life.

Logan wanted to know more about keto. Chad explained him everything. Logan learned that in keto, the key was to consume lots of fats, the average amount of protein, and very few carbohydrates. Logan was surprised to hear that by eating a lot of fats, you can actually lose fat from your body! That sounded quite ironic to him.

For those who are not acquainted with this diet, the keto diet has become one of the most accepted diets when it comes to weight loss. Every month Google witnesses around a million searches for this particular diet. People around the world have accepted this diet with welcome hands due to the simple reason that it works. Success stories are flooding the internet every day.

To explain in a layman's language, the keto diet makes the body release ketones into one's bloodstream. Although the majority of cells in our body depend on blood sugar from carbohydrates for flawless functioning, keto changes that. What keto does is break this cycle of using blood sugar for energy by reducing the intake of carbohydrates.






Now when the cells in the body are unable to get blood sugar for their energy, they start breaking down the fat stored in the body into tiny particles known as ketone bodies. This process is known as ketosis.

Your body will continue to break fat into ketones as long as you keep eating low-carbohydrate rich foods. It might take a few days for your body to adjust to this change but eventually you will break more fats and this is how you start shedding those extra pounds that have made your body their home!

Since the ketogenic diet has to be low in carbohydrates, the diet is high in fats and proteins. The diet includes an extensive list of protein-rich foods such as eggs, meat, sausages, processed meat, fish, cheese, nuts, oils, butter, seeds, and vegetables rich in fiber. Considering these strict restrictions, this diet is not that easy to follow in the long run.

Another reason is that carbohydrates occupy a large part of our diet. Letting go of it is not that easy. You also need to be pretty careful in case you are dealing with any disease. Keto diet and health concerns do not go hand in hand.

For Logan, the keto diet had additional benefits. Cancerous cells utilize a lot of sugar to stay alive and procreate. So Chad put forward a theory that if Logan decreases the consumption of sugar in his diet than it might help him to keep the brain cancer at bay. And no better way to accomplish that than going into a ketogenic regime.

Chad had not done any deep research on this so he asked Logan to conduct full research before embarking on the ketogenic journey.
How did Logan approach Keto?
After Chad'd suggestion, Logan did full research on keto. He was filled with enthusiasm as he now believed to have found a way to stop cancer from coming back ever again. He took studying night and day and understood each and every aspect of the keto diet. He saw that keto is in sync with these fitness goals and hopping on that diet will not cause any harm to his physique, rather improve it.


Logan discovered many benefits when it comes to the ketogenic diet. Here are a few:


1. The ketogenic diet leads to high energy levels
Although the first few days of Keto are hard considering the symptoms of "keto flu" that you need to endure, the grass is a bit greener once you cross that phase. You might have to fight certain health deteriorating symptoms such as fever, fatigue, headaches, irritation, confusion, vomiting, and nausea in the first few days of keto.

These symptoms should be taken as positive signs that your body is slowly adjusting to the keto diet. So after feeling depleted and low in energy for the first 3-4 days, you will jump right into the fat-burning phase. From there on, you will be bursting with energy.

You will find that you have more energy than ever and your endurance levels will eventually skyrocket. Carrie Burrows, a Ph.D. in health and fitness says, "You are able to do more without hitting 'the wall.' When we use fat as fuel, our endurance improves and is more sustainable."


2. A low-carb diet helps to diminish anxiety and depression levels
Scheto, 34, was diagnosed with schizophrenia when he was in his late teens. According to him, the ketogenic diet has had an amazing impact on his brain! He stated that after he started following the keto diet, his brain started working better than it had in years. He was able to concentrate better in his life.







Keto has led to numerous people getting rid of their anxiety and depression. Although the actual reason has not yet been discovered, scientists believe that the intake of healthy fats and reduced intake of sugar can be the contributing factors.

3. Keto has been known to lower risk of Type II diabetes
There has been numerous research suggesting that the keto ratio of 4:1 (4 grams of fat for 1 gm of protein + carbohydrate) helps people with Type II diabetes to slim down and reduce their blood sugar levels to a great extent. In a study carried out recently, people who were suffering from Type II diabetes lost a great amount of weight and required lesser medication when they started following the ketogenic diet.

They were also able to lower their A1c when they continued the diet for almost a year.
4. Keto improves the health of the liver
Fat accumulation in the liver is a precursor to Type II diabetes. In serious cases, fatty livers can lead to full liver damage. But that can be avoided if you are following the keto diet. If you get any inkling that your liver might be in danger, you can try out keto for a guaranteed change.
5. Low-carb nutrition leads to a decrease in inflammation
Our bodies are designed for a simpler and cleaner environment. Now since the environment is changing rapidly, and that too towards the negative side, our bodies answer with self-protection. And that protection frequently takes the form of systemic chronic inflammation.

Although inflammation is not harmful, sometimes it just tends to run wild. Under such circumstances, the ketogenic diet comes in handy. This diet has the ability to curb chronic inflammation. When one's body starts burning fat instead of blood sugar, your body is charged with the help of ketones.






These ketones are anti-inflammatory superheroes. They inhibit the inflammation pathways and also cause the production of antioxidants to fight inflammation.
6. Improvement in sleep cycle is seen in the ketogenic diet
This is a controversial part since many researchers discovered that a high-fat low-carb diet disrupts sleep in the short-run. But the exact opposite happens when you consider the long-term. Carbohydrates are the body's main energy source. Carbohydrates ease the entry of L-tryptophan, an amino acid, into the brain that in turn takes part in the production of serotonin.

Now serotonin is a neurotransmitter, meaning that it helps to calm the body down. This calming effect leads to a good night's sleep when the serotonin gets converted to melatonin, the sleep hormone.
7. The ketogenic diet might have the ability to boost heart health
Many people are skeptical when it comes to this particular benefit of keto. The question that arises in people's mind is how can a diet that is so rich in fats be good for the heart after all! This might seem a bit unusual for a lot of people. So we will need to turn to studies to see whether this benefit really exists.

A study was carried out among 26 patients who were suffering from cardiovascular high-risk factors. Scientists kept tabs on them for almost a year. After a period of one year it was found that 22 of the 26 patients stated improvement in their cardiovascular risk factors. These patients experienced a dramatic reduction in their fasting triglyceride levels.






The reduction was around 24%, which is huge. They also experienced almost an increase of 18% in the good cholesterol levels (HDL). Moreover, the diastolic and systolic blood pressure levels decreased significantly.

The only problem is that these studies are performed for shorter periods of time. So we have no conclusive evidence that the keto diet is beneficial for the heart in the long run.
8. Keto can help to reduce the risk of cancer
And last but not the least, the benefit that resonated with Logan. He found out that for more than 50 years, the ketogenic diet, as an alternative to cancer therapy, is being studied by researchers. Although most of the studies have been conducted on animals, a common conclusion that researchers drew from these studies is that keto has the power to diminish the growth of tumors.

Recently such studies have been carried out in humans as well. And the results have been promising.

So after looking at all the benefits, Logan decided upon entering into full keto mode. He told his doctor that he will no longer be taking his seizure medications.

He started decreasing the intake of carbohydrates and upped the amounts of fats he was consuming. He slowly started noticing changes in his body.
How Keto helped Logan recover?
When Logan embarked on the keto diet, he was back in college. People saw the results he obtained being on keto and applauded him. Logan himself could feel the changes in his body and his behavior. The diet helped him to not only improve his physique but also manage his mood swings. Mood swings were a side effect of the intense chemo he was on. With keto he was getting mentally better as well.







He used to prep his food in his room and carry it everywhere with him. He stopped eating out with his friends and carried his own home-made food everywhere.

This was important as he had to keep track of his carbohydrate intake. He loved being on keto as, unlike other diets, the food in keto is delicious. So he never felt left out. True he had to cut off on sugars but being an athlete, he was anyways not eating too many sugary foods.

Soon he lost 50 pounds. And it didn't feel like it was a weight loss for being sick. He felt healthier, lean, and fitter. He witnessed the positive effects that his body was showing by burning fats instead of storing them. Despite the surgeries and medications, Logan was able to achieve the body of his dreams, the body he used to dream about having before he was diagnosed with cancer.

In the beginning, Logan started documenting his foods and body changes for himself. But then people started asking about it. He started sharing his documentation with other people and his platform became a hit. He became viral and in just a span of days, he had hundreds of thousands of followers following his updates.

Logan started eating foods that no one ate, he started avoiding foods that everyone seemed to enjoy, he started working out even though his doctors said that he might never again do that, and he was getting better and better.






The ketogenic diet proved to be a godsend gift for Logan. After he continued the diet for some time, he conducted some MRIs and there were no signs of cancer anywhere. Being on keto helped Logan get back to his old lifestyle and that too in a better state of mind and physical health.

Like Logan, you too can improve your lifestyle through keto. Whatever your reason be - losing weight, getting active, eating healthy, or improving mood - keto can help you get there. If you have tried out the ketogenic diet to get better yourself, then do share your story with us. We would love to hear all about it!