According to the
WHO
(World Health Organization), heart disease is the primary cause of mortality in the whole world.
It is one of the largest public health issues in the United States, with the number of heart disease growing each year.
Scientists quote all sorts of different offenders in heart disease like blood sugar, cholesterol levels, obesity, inflammation, and perhaps most of all, eating excess fat.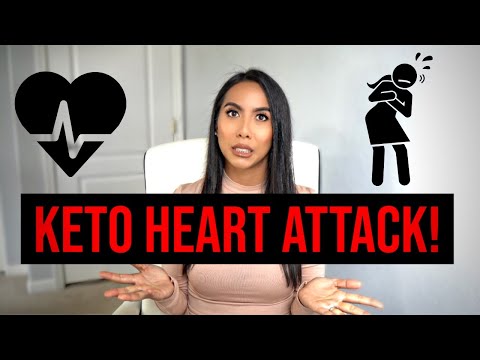 Click on the image to see Video:
My 2 Year Keto Diet Cholesterol Blood Test Results
For years dietary fats have been misinterpreted as the principal reason for heart disease. Also, a lot of people still hesitate from attempting a high-fat diet like the keto diet as they fear of consuming saturated fats that are notorious for predisposing an individual directly to coronary risk.
But today, an increasing number of scientific studies demonstrate that a low-carb, high-fat ketogenic diet will not spike your likelihood of developing heart disease.
As a matter of fact, going keto can potentially reverse many of the risk factors of heart disease, which include type 2 diabetes, elevated blood pressure, excessive body fat, triglyceride levels, insulin resistance, and many more.
In this article, we shall cover all the important points of heart disease and how the keto meal plan can have a role in reversing and preventing heart disease.
What is Heart Disease?
Heart disease
makes the primary reason for mortality in both males and females in America, with CHD (coronary heart disease) accounting for around 50 percent of deaths.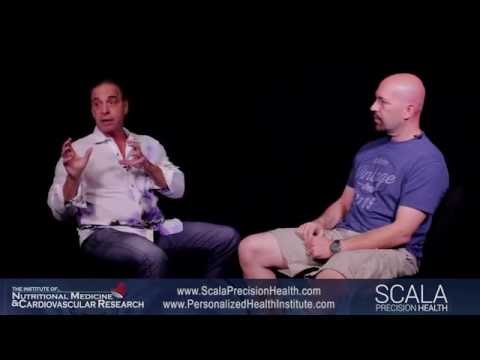 Click on the image to see Video:
Keto Diet and Heart Disease | Russ Scala tells about how he used the ketogenic diet to take control of his life after a near fatal heart attack.
Coronary heart disease is the most reversible, preventable, and common kind of heart disease. It results from a gradual accumulation of plaque within the inner walls of the arteries that supply oxygen, nutrients, and blood to the heart along with other body parts.
The plaque that forms in the arteries comprises of fat, calcium, cholesterol, and some other substances. It keeps growing in size, which can ultimately start to harden and narrow the lumen of the arteries, resulting in a decreased blood flow to the heart and throughout the body. The term used for this process is atherosclerosis.
With the further worsening of atherosclerosis, less amount of blood flows in the arteries. Consequently, the heart tissue cannot receive sufficient oxygen or blood for proper functioning, which may lead to a heart attack or angina (chest pain).
Most of the heart attacks occur when a small blood clot instantaneously slashes the blood supply of the heart that also permanently damages the heart. These blood clots usually form at a ruptured arterial plaque's site.
With time, atherosclerosis may result in weakness of the heart tissue, variations in the healthy heartbeat rhythm, and heart failure.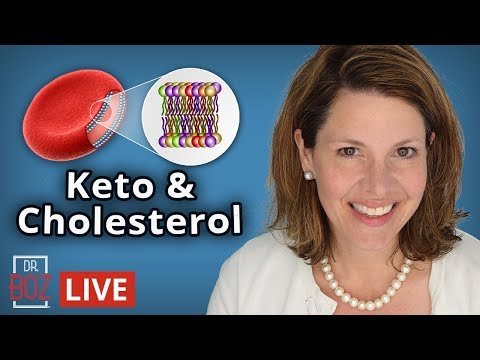 Click on the image to see Video:
Live with Dr Boz: Keto, Cholesterol, & Heart Attacks
In other words, coronary heart disease is basically an insidious action that impairs heart function and lay the basis for traumatic incidents, such as strokes and heart attacks. However, if framed in this manner, it may appear like there's not much for doing to reverse or prevent it.
But actually, the reverse is true. Lifestyle and diet are instrumental for protecting against further plaque accumulation and also serve a potential approach for reducing atherosclerosis.
Does the Ketogenic Diet contribute to Heart Disease?
It has been seen that the concept behind keto being connected to the incidence of heart disease is attributed to the notion, dietary fats are not good for heart health. Here is how that notion came about.
Correlational research connected saturated fat intake with heart disease during the 1970s. By that, it meant that in the entire global datasets, it seemed like those people who consumed more saturated fats experienced more incidences of heart attacks.
Also, the investigators didn't take into consideration other important lifestyle factors such as smoking and exercising.
Researchers proposed a theory: consuming saturated fats raises the 'bad' cholesterol (LDL) that clogs the arteries and ultimately causes the formation of arterial plaques.
In view of this research, the AHA (American Heart Association) issued warnings against eating saturated fat from sources such as coconut oil, meat, and butter.
This formed the basis of a low-fat eating craze, which eliminated meat and butter from their diets and introduced the options of low-fat prepared meals and fat-free dairy items.
However, as the Standard American Diet transitioned from high-fat meals to low-fat meals, a unique trend occurred: Obesity skyrocketed, even when the Americans drastically reduced their fat intake. As a matter of fact, from the years 1988-2008, the estimated figure of people within America, which are obese,
increased
two-fold.
The link between heart disease and obesity is very strong and clear. The risk factors of heart disease like blood lipids, inflammation, and blood pressure all spike as obesity gets increased.
In reality, as the American population stopped consuming fat for protecting their heart against heart disease, they unknowingly enhanced their chances of developing heart disease.
However, this required some compelling scientific evidence for making the AHA remove the warnings against saturated fat.
Today scientific research reveals that there's not much of an association between heart disease and saturated fats, or heart disease and fat consumption, generally.
Many researchers performed a
meta-analysis
in 2010 on heart disease and saturated fats. They analyzed all the present studies so far and observed them on the whole. They found that there is no advantage in replacing saturated fats with unsaturated fats.
In reality, consuming more unsaturated fats raised the likelihood of heart disease in case the polyunsaturated fats (from margarine, vegetable oils, etc.) were mainly omega 6, and had insufficient omega 3 fats for balancing them out.
Moreover, further
meta-analyses
performed in the past
decade
(analyzing over 500,000 subjects) have revealed that there is
no
connection between heart disease and saturated fats.
As science advances, it is becoming more clear that there occurs no meaningful association between the likelihood of heart attack and saturated fat intake.
This brings us to the question of cholesterol and its role in heart disease.
Cholesterol & Heart Disease
Whenever you come to know that someone features high cholesterol levels, you most likely relate it with heart disease. Heart disease and cholesterol have been associated very closely together for years.
Replacing saturated fats from butter and meat with unsaturated fats from vegetable oils does reduce your cholesterol levels.
However, similar to what occurred with saturated fats earlier, the connection of heart disease and cholesterol has been misunderstood.
But first, you should know that there are two major kinds of cholesterol present in the body:
HDL

: HDL cholesterol is also known as 'good' cholesterol as it decreases the likelihood of heart disease.

LDL

: LDL is usually termed as 'bad' cholesterol as it is linked with an increased likelihood of heart disease. But all LDL is not created equal.
Both
size and number
of the low-density lipoprotein (LDL) particle are more apparently significant in heart disease development as compared to the sheer existence of LDL cholesterol within your blood.
Simply put, there are bad LDL and good LDL in the blood.
It is seen that the
LDL particles
, which are denser and smaller in size, tend to feature a stronger link with heart disease as compared to the fluffy big LDL particles.
The reason for this is that the LDL particles, which are smaller in size, can much more conveniently get inside the artery linings and add in the formation of plaques that ultimately result in heart disease.
But what ensures you that the LDL particles present in your bloodstream are bug and fluffy? Scientific investigations have found that the
low-carb meal plan
lowers the concentration of dense atherogenic LDL particles and raises the fluffier and larger LDL particles, which contribute less to plaque formation in the artery linings.
Is Low-Carb Nutrition Healthy and Safe if you are already suffering from Heart Disease?
There exist
numerous
scientific
studies that reflect the superiority and safety of a low-carb meal plan and its utilization for lowering heart disease risk factors among
children
and adults including C-reactive protein, artery plaque, triglycerides, blood glucose, HDL and LDL cholesterol,
body mass index
(BMI), diastolic blood pressure, and
body fat
without spikes in oxidation or inflammation.
These studies highly promote the safety aspect of keto, and it looks pretty good to prevent heart disease. However, what happens if you are already at risk of heart disease or have it?
Consuming a
low-carb diet
can decrease or reverse many heart disease's
risk factors
, which include elevated blood lipids, inflammation, elevated blood pressure,
diabetes
/insulin resistance, and obesity. All of these are the factors you will try to control in case you possess heart disease.
With that being said, not every ketogenic meal plan is created equal. In case you are planning to follow low-carb nutrition, you should ensure to select a superior-quality ketogenic diet that consists of healthy fats plus is packed with low-carb veggies, which provides a plethora of nutrients such as omega-3s, fiber, and a wide range of micronutrients. You should avoid trans fat and omega-6 oil (processed).
Although there is no research that the keto ration can be detrimental to heart health, eating a low-grade diet, which is packed with
trans fats
and processed foods can definitely influence your heart – whether it is keto or not.
Opting for a healthy and clean keto nutrition plan is very important, just like it is maintaining your carbohydrate intake low. And it is equally important to always discuss with your doctor if you want to try a new nutrition plan.
Keto Foods that are Beneficial for Heart Health
Foods and nutrients have an impact on the risk factors of heart disease. Carefully selecting them can assist lower oxidation, inflammation, and enhance metabolic profile. As mentioned earlier, avoid foods, which cause oxidation and inflammation like trans fat, sugar, and vegetable oil.
Foods to decrease C-reactive protein
You should avoid sugar, keep your carb intake low, and include foods that contain:
Vitamin C

(broccoli, Brussels sprouts, bell pepper, strawberries)

Fiber

(avocado, artichoke, coconut, blackberry, raspberry)

Omega-3s

(anchovies, grass-fed beef, fatty fish, walnuts, flaxseed, and chia seed)

Anti-oxidants

(particularly

dark chocolate

and cocoa with little sugar)
Foods high in minerals and vitamins
Magnesium

: Avocado, dark chocolate, tuna, fatty fish, almonds, pumpkin seeds, spinach, Greek yogurt, and kefir

Iron

: Heme is the most absorbable form of iron present in liver and red meat, while dandelion greens and spirulina are packed with non-heme iron. Obtaining iron from meals when you are on a low-carb diet such as the ketogenic diet that is rich in healthy fats is particularly vital for menstruating females, and isn't harmful unless in the presence of a hereditary disease called Hemochromatosis – where excess iron is present within the body. Consuming excessive iron in the case of Hemochromatosis can be harmful.

Homocysteine

: Foods rich in folate (avocado, romaine lettuce, liver, mackerel, sardines, lamb), vitamin B, choline (chicken, shrimp, collards, eggs), spices (cinnamon, turmeric, garlic), and glutathione (cabbage, cauliflower, asparagus, parsley). Eliminate or avoid smoking and alcohol.

Fibrinogen

: Foods with a high concentration of beta-carotene (turnip greens, Swiss chard) parsley, Greek yogurt, sauerkraut, green tea, and vitamin E (nut oils and sunflower seeds).
The Bottom Line
The development of heart disease is dependent on several factors, including cholesterol, blood pressure, smoking, stress, blood sugar, and family history. The low-carb meal plan has been effective in lowering many of the modifiable risk factors of heart disease.
The presence of saturated fats in your diet is not supported by any scientific research that leads to heart disease. Instead, incorporating a healthy variety of saturated fats has been seen to lower your chances of heart problems.
A high-fat, low-carb diet can be an ideal way of preventing heart disease. Its anti-inflammatory, bad cholesterol-reducing, anti-obesity, and blood-sugar managing effects all render it a good choice for lowering the likelihood of heart disease.