How much sugar do we eat with yogurts, cheeses, and curds?
It just so happens that yogurts and curds are considered proper, light, and healthy food. When asked what is more useful – a piece of fat or a jar of low-fat fruit yogurt, 99 out of 100 people will answer "of course, yogurt."

This is not surprising, because the marketing actively uses references to" live milk culture" and "lightness", the packaging is decorated with berries, fruits, and whole grains, and even in the names there are hints of health benefits," activity "and "immunity".

However, if you ask the same person to choose between a slice of fat and seven teaspoons of sugar, the choice is not so clear. This is how much or even more sugar and other carbohydrates can be contained in a single package of fruit yogurt, or cottage cheese.

And if the data on the mass fraction of fat is displayed on the package so that everyone can see it, then the percentage of carbohydrates is hidden on the back of the package and printed in the smallest font.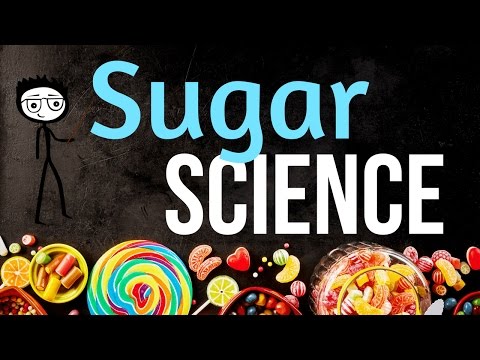 Click on the image to see Video:
What Does Sugar Do To Your Body? 10 Proven Negative Effects of Sugar
To find out how much sugar consumers of sweet yogurts and curds get, we conducted a study: we bought samples of all sweet curds and yogurts with fruits and cereals in a supermarket to see what they contain. If the same product was available in several variations with the same indicators (for example, cottage cheese desserts with different types of berries), we were limited to one sample. We did not take natural products without added sugar and fruit fillers.

The research revealed a lot of interesting things, and not just about carbohydrates. For example, if the packaging shows beautiful fruits and berries, this does not mean that they must be in the ingredients, instead, they can be "flavorings identical to natural ones".

In most yogurts, not only sugar is added, but also starch – as a thickener. In the long lists of ingredients, there are many unknown, but one component be highlighted especially – it is a substitute for milk fat in the curd mass and cheese. "Milk fat substitute" - or MFS - is a product made from vegetable oils, primarily palm and coconut.

These oils are useful, but do not rush to be happy – the composition of MFS includes refined, highly chemically processed oils, often hydrogenated, that is, containing toxic TRANS fats. It is impossible to determine from the data on the package whether the cottage cheese contains TRANS fats, but the probability of this is very high.

Given that both of these products are almost one-third (!) pure sugar, we strongly recommend avoiding them, not only for followers of the keto diet but also for anyone who takes care at least a little bit of their own health.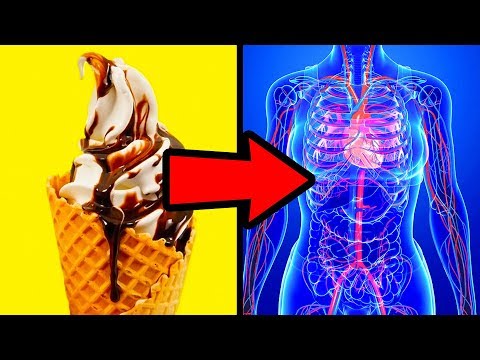 Click on the image to see Video:

What If You Stopped Eating Sugar for 1 Week
Our conclusion: forget about all these sweet yogurts, cheeses, curds, and "light" desserts. They contain too much sugar and other carbohydrates. Buy whole and natural dairy products instead. And if you want to add fruit and berry flavor and aroma to them, it is better to mix them with fruits and berries yourself. All the other ingredients, including sugar and starch, neither you nor your children exactly need.
Sugary drinks kill 184,000 people annually
Fruit juices, lemonade, and other sugary drinks supposedly kill no less than 184 thousand people annually – - this conclusion is made by researchers from Taft University (Boston, USA) from statistical calculations. Their research is published in the journal Circulation.

Sugary drinks are drunk by people all over the world. And around the world, it is the consumption of sugary sodas that best correlates with the level of obesity – similar studies have already been conducted before. However, until now, no one has compared statistics on consumption of sugary drinks with statistics on obesity-related fatal diseases, such as cardiovascular diseases, cancer, and diabetes.
Scientists from Taft University have modeled the possible impact of sugary drinks on disease incidence at the global, national, and regional levels, taking into account the age and gender of the population.

To do this, they used statistics for 2010 on the consumption of sugary drinks from national nutritional questionnaires, as well as from earlier medical cohort studies. Data on mortality from various diseases were collected from the 2010 Global Survey of Morbidity, Injury, and Risk of Mortality.

Combining all this pile of statistics, scientists calculated how much consumption of sugary drinks may be associated with deaths from various diseases in different countries, age groups among men and women.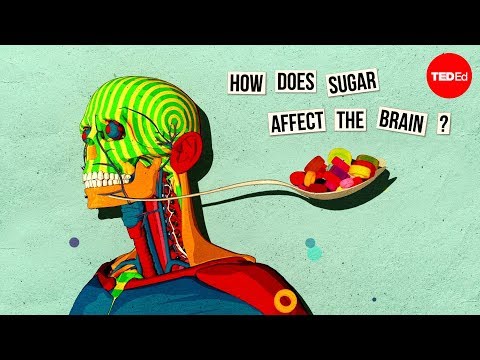 Click on the image to see Video:
How sugar affects the brain
Of the 184,000 deaths associated with the consumption of sugary soda, 133 thousand occur in diabetics, 54 thousand – in people who died from heart attacks and other cardiovascular diseases, and another 6.5 thousand-in cancer patients.

However, the idea that sugary sodas are a pleasure for the poor does not quite correspond to reality: 5% of deaths associated with sugary drinks occur in the lower layers of the population, 71% in the middle class, and 24% in people with high incomes.

And, of course, the authors found a huge difference across countries. The worst case is in Mexico: 405 deaths per million are related to soda consumption.

According to Dariusz Mozafarian, Professor at Taft University and head of the research, to preserve the health and lives of people on Earth, we must first focus on reducing the consumption of sugary drinks: "A sustainable reduction in the consumption of sweetened beverages should be a global priority. These drinks have no benefit; removing them from the diet saves tens of thousands of lives."

In medical statistics, there is such an indicator: the year of life adjusted for disability (disability-adjusted life years). This is, simply put, a year thrown out of a healthy person's life due to disability. So, imagine: every year, humanity loses 8.5 million years of healthy life only thanks to sweet drinks.

Remember this when you habitually buy your child a bottle of lemonade or a juice box with beautiful fruit on the side. Remember – and choose something less sweet.
Sugar vs heart…
A large-scale study conducted by American scientists has proved an unexpected fact: moderate alcohol consumption protects better against heart failure than complete rejection of it. The same cannot be said for sugar.

Over the course of 24 years, scientists observed 14,000 people aged 45 and older. It turned out that those who drank an average of seven alcoholic beverages a week were at a lower risk for heart failure compared to those who did not drink alcohol at all.

Seven "American " drinks", or so-called "alcoholic units" of 14 g of pure alcohol - this is about 2.5 pints (450 ml) of beer with a strength of 3.6%, or about five glasses of vodka (rum, whiskey, cognac) 50 ml each, or 5 glasses of 150 ml dry wine. With this weekly alcohol consumption, the probability of heart failure in men decreased by 20%, and in women - by 16%.

The study looks very solid due to its wide time coverage and a large number of participants, but some doubts remain about its absolute truthfulness. First, it is not a fact that all subjects understood the word "drink" in the same way: for example, the average American portion of alcohol contains 14 g of alcohol, and the British portion contains 8 g of alcohol.

Second, you can't check how accurate their reports on alcohol use were. Finally, it is very likely that those participants who did not drink alcohol at all avoided it precisely because they were already at an increased risk of heart disease. And regular drinking of alcoholic beverages has so many side effects that the supposed positive effect fades into the background.

Whatever it is, it is known exactly what increases the chance of developing heart failure and other cardiovascular disorders – sugar. Not fat, as previously thought, but an excess of carbohydrates is bad for the heart.

This is proved by American another recent study. Scientists analyzed data from the National Health and nutrition survey from 1988 to 2010, as well as detailed mortality statistics for the same period. The work takes into account the main health indicators, age, gender, and ethnicity of participants.

It turned out that recently 71.4% of American adults get 10% of their daily calories from added sugar, and 10% – 25% of calories or more. For every 163,000 deaths, an average of 830 occur from cardiovascular disease.

It turned out that among people whose diet included 10-25% of added sugar daily, the death rate from heart failure and other cardiovascular diseases was twice as high as in those who consumed less than 10% of sugar.

The most popular products in America with added sugar are soda, canned peaches, skimmed fruit yogurt, milk chocolate, skimmed milk, and all kinds of fruit drinks. Sounds harmless, doesn't it? However, it is enough to eat or drink one of these items to exceed the recommended amount of sweeteners per day. The American Heart Association recalls that men are allowed no more than 150 "sugar" calories per day, and women only 100.
Alzheimer's disease - type 3 diabetes?
It is very likely that the true cause of Alzheimer's disease is the abuse of sweets and fast food. We all know that there are two types of diabetes – the first, "congenital", and the second – "purchased". But more and more scientists believe that we should not underestimate the destructive effect of sugar on the brain, which leads to the development of"type 3 diabetes". That is Alzheimer's disease.

Insulin is a hormone that lowers the concentration of glucose in the blood. In primitive terms, when the sugar level rises, insulin literally screams to the cells: "Let's get this stuff out of your system!" If we constantly drink sweetened beverages and overuse carbohydrates, the cells get tired and stop responding to insulin calls. That is, they develop resistance to it. When insulin resistance affects brain cells, we begin to lose memory and orientation in space and our personality changes. This soon develops into Alzheimer's disease.

A century ago, a neurologist named Alois Alzheimer noticed that in patients, healthy brain cells are replaced by strange protein molecules – the so-called beta-amyloid plaques. But exactly how they are formed remains a mystery to this day. One thing is clear: insulin resistance accelerates this process.

Another neurologist, Professor Suzanne De La Monte of Brown University, has been studying this phenomenon for many years. By artificially creating insulin resistance in the brains of rats, she caused their neurons to die and their neural connections to become confused. As a result, the animals showed all the signs of Alzheimer's disease. It is because Alzheimer's is directly linked to low levels of insulin in the brain that many researchers refer to it as "type three diabetes" or "brain diabetes."

This is confirmed by the fact that diabetics are twice as likely to get Alzheimer's, and obesity increases the risk of neurological disorders. You can't say that diabetes causes Alzheimer's, but they have one cause: eating too much added sugar.

And if the percentage of people with Alzheimer's increases at the same frightening rate as the number of people with type 2 diabetes, the world will overflow with people with sick bodies and minds. Now the US government spends on the treatment of Alzheimer's disease at about $ 200 billion a year, and over the next 40 years, this number will increase to a trillion dollars.

The surest way to protect yourself from destruction is not to follow the classic diet recommended by nutritionists. An excess of carbohydrates, low-fat foods packed with sugar, and sugary drinks will quickly destroy your brain.
Star chef Jamie Oliver against sugar
Jamie Oliver, a well-known British chef, author of many books and TV shows, has publicly stated that products containing sugar should be equated with tobacco and taxed accordingly. According to him, sweets are a real evil that seriously threatens the health of Britons, and the country should follow the example of France, which recently introduced a tax on drinks with added sugar.

According to an average estimate, every person in the UK eats 238 teaspoons of sugar every week and often does not even know about it: this is due to the abundance of low-fat and high-sugar diet products. Jamie Oliver reminded his fans that excessive sugar consumption is a risk factor for obesity and type 2 diabetes: a third of British children and two-thirds (!) of adults are overweight, and the number of diabetics has doubled in the past twenty years.

Sweets, like smoking, are very expensive for the country. Every year, the UK government spends about 5 billion pounds on fighting diabetes and obesity, and this amount is likely to increase tenfold by 2050. 68% of cases reported by the National Health Service (a government health organization) are the result of poor nutrition.

The UK government does not yet share Oliver's view. Jeremy Hunt, the health Secretary, strongly opposed the introduction of a tax on drinks and products with added sugar. Jamie Oliver himself says that he is not a fan of such measures, but when it comes to sweets, compromises are impossible – as in the case of smoking.

According to the chef, the cup of his patience overflowed after a trip to South America, literally captured by Western brands of sweet foods and beverages. He was particularly struck by a large dental clinic in Mexico City, funded by a well-known soda company: it treats dozens of children every day who have lost all their baby teeth due to the abuse of that very soda.

Jamie Oliver has repeatedly managed to positively influence the situation with nutrition in his native country. It was he who developed the global healthy lunch project in British schools, which changed the lives of thousands of children for the better. Perhaps this time the star chef will be able to win the fight against sugar again.
New reality: in America for the first time introduced a tax on soda
Berkeley, a university city in California known for its liberal politics, was the first in the United States to approve a tax on lemonades, sugary drinks. Despite the fact that soda manufacturers have invested more than $2 million in a promotional campaign, Berkeley residents almost unanimously voted in favor of the tax: 70% of them approved this measure.

According to the new law "Measure D" ("Measure D"), from January 1, 2015, each sweet drink will be taxed equal to one cent per ounce (30 ml). This means that a can of Coca-Cola will rise in price by about ten percent. The tax also applies to all kinds of sports drinks, ready-made teas, and syrups.

Even though the defeat of the "soda manufacturers" is obvious, they are not willing to admit it. "Berkeley is a small city, very different from the rest of America," says Chris Gindlesperger, a representative of The American Beverage Association, " and residents of other States vote confidently against the soda tax year after year.

Politicians should not take Berkeley's innovation seriously." Unfortunately, a few months ago, the majority of voters in San Francisco, which is also famous for its progressive views, voted against the soda tax – manufacturers could not help but be happy about this fact.

However, advocates of a healthy lifestyle do not agree with Gindlesperger and consider "Measure D" a huge breakthrough. "Yes, this is Berkeley – a small liberal city with a large university, but there are a lot of such cities in America," explains Marion Nestle, professor and author of the famous book Food Politics about "food" legislation. " If the law passed in Berkeley, other States will surely take the initiative."

Michael Jacobson, Executive Director of the Public Opinion Research center, who personally invested $15,000 to promote the soda tax, says: "soda manufacturers should understand that this measure is absolutely deserved."

Of course, the "anti-soda campaign" received much more serious support than small private infusions. Billionaire Michael Bloomberg, who unsuccessfully fought the dominance of sugary drinks during his mayoralty in New York, donated $650,000 to activists in Berkeley. Perhaps " Measure D "will launch a global campaign across the country: as researchers say, "everything new starts in California."

The question that concerns the public the most is whether citizens will drink less soda after the tax is introduced. In the United States, the corresponding sociological research has not yet been conducted, but it is known for sure that in Mexico, the tax on soda and fast food works perfectly. In just a year, sales of industrial sweet drinks fell by 10%. Local activists hope that this will reduce the number of diseases of diabetes and obesity.

Opponents of the" anti-code law " in America claim that it will only anger people and will inevitably lead to higher prices for other products. In addition, it will complicate the already difficult life of low-income citizens. Activists are more optimistic about the future.

"We have always fought for our children to be healthy, "says Javier Morales, Executive Director of the Latin American Association for a healthy California," and "Measure D" is a critical step in that fight."