Anyone experiencing migraines knows how debilitating their symptoms could be, which include severe pain, vomiting or nausea, and sensitivity to noise and light. Migraines may stop individuals from leaving their homes or working and can reduce their overall well-being.
Far before the ketogenic diet became immensely trendy for losing weight, this low-carb, high-fat meal plan was originally devised for helping children with epilepsy that is a neurological disease resulting in the abnormal activity of the brain.
Now, some scientific investigators believe the keto diet is not only good for losing weight and gaining mental clarity - it can be useful for curing another condition as well: chronic migraines.
According to an
estimate
, 1 in every 6 Americans experiences migraines. It is also seen that women suffer more from them and 14 in 100 women feature recurring migraines.
Migraines do not have any cure, and treatments like OTC pain-relieving drugs do not always work, plus their overuse may turn the symptoms worst. So the logic that an uncomplicated lifestyle modification may alleviate the migraine-associated pain along with the debilitating adverse effects is great news.
Below we will discuss what the scientific research reveals about the ketogenic ration for migraines.
A migraine is a neurological condition, frequently characterized by a recurrent pulsating pain typically beginning on one side of the affected individual's head. It is frequently accompanied by disturbed vision and nausea and usually lasts anywhere between 4-72 hours at one time.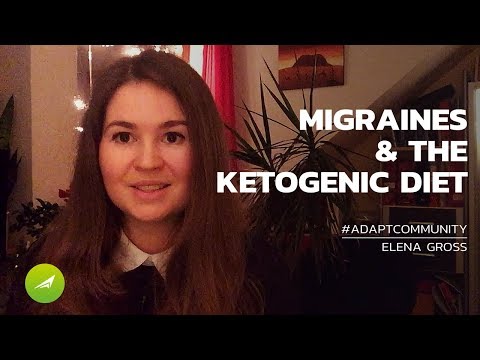 Click to see Video:
Migraines and the Ketogenic Diet — Elena Gross
Migraine categorically strikes the affected individuals a couple of times each year during childhood, and it then advances to a couple of times each week during adulthood, especially in
females
.

Some individuals encounter an aura, such as a pursing glint of light, along with fatigue just before the migraine strikes. It isn't similar to normal headaches and may severely impact the overall well-being of the sufferer.
As per the
Migraine Research Foundation
, in the USA alone, 10 percent of children, 18 percent of women, and 6 percent of men suffer from migraines. Moreover, individuals belonging to the age group 18-44 most commonly experience migraines.
Migraine has two major
types
: chronic migraine and episodic migraine. Generally, chronic migraine is when there is fifteen or more occurrence of headache in a month, while episodic migraine is less than fifteen headaches in a month.
Additionally, migraine headache has multiple
subtypes
as well, which is helpful for putting a name for various symptoms related to particular types of migraine. These include:
Brainstem aura migraine headache
The individuals experiencing this form of migraine have symptoms of slurred speech, noise sensitivity, and dizziness.
Hemiplegic migraine headache
This type of migraine results in temporary weakness of one side of the body and has two forms: sporadic and familial. The sporadic does not affect any other member of the family, while familial affects other members of the family.
Menstrual migraine headache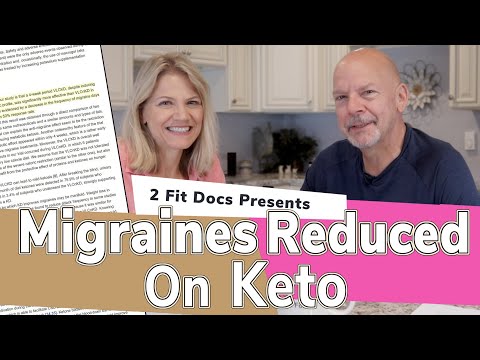 Click to see Video:
Migraines Reduced by Keto Diet: Study Results
This type of migraine typically occurs 2 days prior to 3 days later the onset of menstruation. Females experiencing this type can experience other forms of migraine as well, however, the migraine occurring around menstruation doesn't usually include brainstem aura migraine symptoms.
Ocular/Retinal migraine headache
It is a rare migraine type that includes sights of gleaming lights. It may also involve disrupted vision or short-term loss of sight within one eye (usually for not more than one hour) before the onset of migraine headaches.
Vestibular migraine headache
It is accompanied by dizziness or vertigo along with a sensation of spinning that usually lasts ranging from few minutes-few hours.
Causes of Migraine
Why do migraines happen? The cause is unknown. But some sources believe that the pain signals and inflamed blood vessels within the brain may have a role. Some dietary, emotional, environmental, and physical factors called 'triggers' may also contribute to this neurological condition.
Dietary triggers

, which can add to migraines, include poor patterns of eating, alcohol, caffeine, and dehydration. According to a

study

performed for investigating the impact of migraine frequency with eating patterns in 285 female participants concluded that participants with a healthy dietary pattern showed a decreased attack frequency.

Emotional triggers,

which may stimulate migraines among some individuals, include depression, stress, anxiety, tension, and shock.

Environmental factors

, which may trigger, migraine include loud noises, strong smells, and bright lights. Some drugs such as sleeping tablets and contraceptive pills also cause migraines among some people.

Physical triggers

may include sleep loss, tiredness, jet lag, exercise, and shift work.
Most medicines for managing migraine headaches are either used for relieving pain or for preventing or lessening the recurrence.


Click to see Video:
Ketones and Migraines
Nevertheless, each of them comes at a price of possible adverse effects and is not warranted to be productive.
A Quick Recap on Ketosis, Ketones, & Keto Diet
Ketones or ketone bodies behave as an alternate source of energy for the brain and nearly all other body tissues. These are a by-product of the metabolism of fat, synthesized from the stored fat of the body (like during fast), or the dietary fat (like the ketogenic meal plan) after the glycogen stores of the liver has been burnt up, and glucose isn't available.
In the past few decades, ketones and keto ration have gained considerable attention due to their therapeutic application in various neurological diseases. This is mainly because of the connection between impaired metabolism of brain glucose and the ability of ketones to bypass such problems and efficiently overcome the accompanying energy deficit.
There exist three main ketone bodies: BHB (beta-hydroxybutyrate), acetone, and acetoacetate.
BHB
is the most thoroughly studied ketone body that accounts for roughly 70 percent of ketones synthesized during ketosis.
Two reasons beta-hydroxybutyrate is considered as an alternate energy source for the brain:
BHB does not need a glucose transporter protein for getting inside the cells.

It serves as a vital signaling molecule, which means it can transfer information to other cell parts and the body.
Both these reasons make BHB a capable therapeutic target.
An average person who follows a standard dietary regimen will possibly never enhance his level of blood ketones over 0.2 mmol/L, except he partakes in extended fasts.

Those who follow the keto nutrition plan or/and fast periodically will possibly experience a spike ranging from 0.5 to 5 mmol/L.

This is regarded as the state of ketosis, which means that you have switched from glucose as a primary energy source to ketones and free fatty acids effectively.
Low-Carb Nutrition for Epilepsy vs. Migraine
The keto meal plan was originally devised for preventing seizure activity in patients with epilepsy that were unresponsive to medicine. It permitted the affected individuals to imitate fasting (which had been shown to lower their frequency of seizure activity) while they still got to eat – as the low-carb and high-fat intake of keto deprives the body of sugar (glucose).
From then on, apart from helping individuals lose weight, low-carb nutrition has been used for addressing conditions such as autism, brain tumors, and several other neurological issues, including migraine headaches.
There are, in reality, some striking commonalities between epilepsy and migraines.
Doctors frequently prescribe anti-seizure drugs (originally signified for those with epilepsy) to migraineurs. That is because these drugs usually block the activity of a neurotransmitter called glutamate.
The glutamate neurotransmitter is present in great amounts in individuals with both migraine and epilepsy.
Ketone bodies
that are synthesized, when the body is in the state of ketosis, are capable of blocking increased concentration of glutamate.
So, as ketosis has advantages for epileptic individuals, it can have an advantageous effect on those experiencing migraines as well.

The ketones, which are formed when your body shifts from carbs to fats, serves for replacing the energy, which fuels various kinds of body cells, including brain cells or neurons that are believed to be accountable for migraines.
Keto as a Treatment for Migraine
Although abundant anecdotal evidence is present around the low-carb diet being useful for treating migraines, the current scientific evidence may appear limited but are greatly promising for the contributory role of keto in curing migraine attacks.

Here are some compelling recent findings:
A
study
was performed by enrolling two twin sisters of 47 years old suffering from nearly five to six migraine attacks each month. Their migraines lasted for almost 72 hours plus involved common symptoms encountered with migraines.
Both the participants had tried various other preventative treatments of migraine as well, but stopped utilizing them either due to weight gain or they did not work.


However, when they began a therapeutically supervised ketogenic ration, besides losing weight, they also stopped experiencing migraine headaches while their body was in ketosis.
Furthermore, in
short-term scientific investigation
, migraineurs were put in two groups, one that followed low-carb nutrition while the other followed a standard low-calorie diet.

It was found that low-carb nutrition helps in relieving headaches and lowered the number of medications taken as well. On the other hand, the standard low-calorie diet did not effectively improve migraine headaches during the study.
Cherubino di Lorenzo
who was a neurologist working at the Sapienza University of Rome had also reported in his article on the effects of the keto diet on migraineurs that he found substantial improvements in the headaches of the patients only during ketosis.
Moreover,
ketone bodies
may help in reducing hunger, along with glucose and insulin problems.
As discussed earlier in the investigation of twins sisters, a common negative effect of many migraine medications is increased weight.


What's considered bad regarding that is the excess weight, which may turn symptoms worse. As a matter of fact, obesity can spike the risk of migraine by
81 percent
.
A
2019 research
published in a journal named Nutrients revealed that BHB (main ketone) has the capability to positively impact other mechanisms that are thought to be instrumental in migraine pathology, which include mitochondrial functioning, cerebral excitability, oxidative stress, gut microbiome, and inflammation.
In another
study
published in a journal named

Neurological Science

recommends that ketones may help in restoring brain excitability along with metabolism and prevents neuroinflammation within migraine brains.
In 2015, a
study
was conducted on 96 overweight women that suffered from migraine. They received a standard diet or the ketogenic nutrition plan for 6 months.

The results concluded a considerable lowering of headache frequency in the ketogenic nutrition group, and this was credited to the ketogenic nutrition's ability to increase energy metabolism of mitochondria and prevent neural inflammation.
In addition to this, a
2018 study
analyzed the efficacy of Modified Atkins Ketogenic Diet in chronic cluster headache.


It enrolled eighteen drug-resistant patients for three months, and after the study ended it was found that the keto diet considerably improved the chronic cluster headache frequency and symptoms.

Three individuals who stopped the meal plan after the end of this study experienced a repeat of chronic cluster headache, and two reported positive responses when they came back on keto.
This research theorized that the useful impacts of the ketogenic meal plan on chronic cluster headache might be because of the following important factors:
The low-carb diet may enhance the

dopaminergic activity

of the brain.

Ketone bodies may enhance GABAnergic activity that is productively associated with epilepsy and chronic cluster headache.
Blood Sugar & Migraine
It may not only be ketone bodies themselves, which helps migraines.
Migraineurs usually experience issues regarding how their blood sugar and insulin levels react to the intake of sugar.


So, the very-low-carbohydrate feature of nutritional ketosis in combination with the ketone bodies as an alternate fuel source can add to the improvement of migraine.
It is even recommended that the advantages of ketosis state on migraines can outlast the duration spent in this state.

This sometimes occurs with epilepsy in which seizures don't come back even after the individual has come off the keto nutrition plan.
Some of the commonly occurring features of migraine include abnormal glucose transport and metabolism, oxidative stress, gut microbiome abnormalities, inflammation, mitochondrial dysfunction, and cerebral excitability.
How the Keto Diet Targets all Migraine-Associated Features?
Glucose Metabolism
One of the factors that are correlated with migraine is hypoglycemia. It is frequently reported that skipping meals or fasting may trigger a migraine.

Ketone bodies can overcome inadequate availability of brain glucose or metabolism very easily and hence restore the high energy demands of the brain.
Furthermore, ketone metabolism, as compared to glucose metabolism on a cellular level gives rise to greater energy through ATP per each molecule of oxygen spent.


Simply put, ketones provide more energy. This further helps in overcoming the deficit of energy encountered during impaired glucose metabolism or low glucose supply.
Insulin resistance has been associated with migraines as well. Insulin works together with glucose transporters for shuttling glucose from the bloodstream into the cells.

When an individual is insulin resistant and cannot respond effectively to insulin, the brain cannot get glucose in enough amounts.
Oxidative Stress
ROS or reactive oxygen species, along with RNS (reactive nitrogen species), are both a natural by-product of metabolism plus are instrumental within the body.

However, the problems arise when they exceed the antioxidant potential of the bodily cell.

This may enhance the oxidative stress along with impacting both energy metabolism and mitochondrial function. Several studies suggest that migraines are linked to decreased antioxidant potential or/and raised oxidative stress.
Ketones
, especially BHB, possess antioxidant capacity through the reduced synthesis of ROS together with their capability of scavenging free radicals.
Moreover, BHB operates on the epigenome level and supports the gene expression, which helps in combating oxidative stress.
Therefore it is recommended that BHB can be an approach for combating oxidative stress related to migraines.
Gut Microbiome
There occurs an ever-growing body of scientific evidence that links the health of the gut to overall health. Moreover, there is a reason that the gut microbiome can be significant in migraine pathophysiology.

This fact is supported by a raised number of
gastrointestinal disorders
or symptoms often reported by migraineurs.
A well-structured keto meal plan along with nutritional ketosis can alter the microbiome of the gut in some way that enhances gut permeability and synthesis of neuropeptides that presents it as a possible therapy.
Inflammation
In spite of not being regarded as an inflammatory disorder, several studies suggest that migraine is related to
neuroinflammation
. Also, research has shown the presence of multiple pro-inflammatory units in migraine.
Ketones are repeatedly considered for having anti-inflammatory qualities. This has particularly been reported in a 2015 study that
BHB
can suppress NLRP3 inflammasome activation.
The decrease of oxidative stress can be another way by which BHB protects against inflammation. BHB, with its anti-inflammatory properties, can serve as a way for dampening the possible inflammation holding up a migraine.
All in all, a low-carb diet prevents or reduces inflammation by suppressing the inflammatory pathways' activation together with their potential to lower oxidative stress.
Mitochondrial Function
Migraine is present in high prevalence among people having
mitochondrial disease
. Additionally, there is more often
maternal
transference of migraine headaches.

This spotlights the likelihood that mtDNA (mitochondrial DNA), which comes exclusively from the maternal side, might be involved.
There are scientific findings that reveal the
genetic link
between migraine and mitochondrial function and a decrease of mitochondrial enzymes within migraine.
Ketones demonstrate a beneficial impact on mitochondria plus are also termed a 'clean' source of energy.

Some
animal studies
have even concluded that ketosis can promote the synthesis of brand new mitochondria (mitochondrial biogenesis).
Cerebral Excitability
Glutamate and GABA are two main neurotransmitters that control the excitability of the brain. Glutamate is excitatory, and GABA is calming in nature.

Any imbalance of these two, if glutamate dominates, may lead to neuronal hyperexcitability, and overstimulation. This is possibly associated with migraines because of the overlapping pharmacological drugs used for treating both conditions.
Ketones
support a ratio of raised GABA to glutamate, thus lowering neuronal firing plus soothing the brain.
Ketones seem to suppress glutamate transport along with lowering glutamate release. This reduced excitability can, therefore, prevent migraines.
Keto-Friendly Foods for Migraine
Since diet plays an important factor in migraines, let us see which of the top food items should be avoided by the person who suffers from migraines. Keep in mind, that some food triggers can vary relying on the person.
Food Items to Avoid
Aged cheese: This, along with other ripe, or aged foods such as red wine, aged meats, ripe avocados, olives, balsamic and red vinegar, contain tyramine, which is a common food trigger of migraine.

Aspartame, which is an artificial sweetener as Equal or NutraSweet

Caffeine: Though caffeine may be useful to stop migraines and its frequent consumption does not lead to them, withdrawal of caffeine may behave as a trigger.

Sulfites that are in nearly all wines

Foods containing MSG or monosodium glutamate: As discussed above, glutamate in high amounts can cause migraines, so MSG that is utilized in some packaged foods and restaurants should be avoided.

Foods containing yeast such as soft pretzels, sourdough bread, and pizza crusts.

Bananas: Bananas, along with citrus fruits consist of histamine that can be a triggering factor for headaches.

Yellow #6, a food dye utilized in several packaged foods such as Doritos and Mountain Dew.

Pickled foods such as dill pickles, squash, okra, peppers, and beets.
Fortunately, low-carb nutrition automatically assists in bypassing some of the top triggering foods of migraines like fruits, artificial foods, and bread.

Going keto permits us to return to fundamental aspects and consume foods that contain limited extra ingredients, so it makes it easier to understand what you are getting with every snack or meal.
Summing it up – Keto Diet for Migraine
Migraines aren't typical headaches but are environmentally or genetically triggered. They are significantly painful and recurring, which affects your overall quality of life.

Medications do not always assist, and they feature some serious side effects.
Provoking nutritional ketosis by the ketogenic meal plan may offer a means to considerably reduce the frequency and severity of migraine attacks among individuals – together with facilitating weight loss that itself is advantageous for migraineurs.
The latest scientific evidence also supports the role of low-carb nutrition in treating migraines. If you are struggling with migraine headaches, consider going keto as it has promising outcomes among many migraine sufferers.