Thyroid hormones influence almost every system of your body and have an intense impact on overall health and metabolic rate. As a result, conditions like Hashimoto's disease can lead to symptoms, which negatively influence general well-being.
Gut health and diet are a huge area of opportunity in regards to lowering inflammation and making autoimmune disorders under control. Plus, research also seems promising concerning autoimmune diseases such as Hashimoto's disease and nutrient-rich diets that are filled with pastured meats, vegetables, and coconut oil.
People are opting for a keto diet almost everywhere for massively boosting the ability of their body to heal and function.
But the question arises, is a ketogenic diet useful for people having Hashimoto's disease? As per the present research, the answer is yes.
In this article, we will learn the effect of a low-carb diet on the health of the thyroid, and guide you in optimizing your thyroid health.
What is Hashimoto's disease?
Hashimoto's disease, which is also known as Hashimoto's thyroiditis or autoimmune thyroiditis, is an autoimmune disorder attacking the thyroid.
As with all autoimmune diseases, the body's immune system that is particularly designed for targeting germs and provide protection wrongly attacks itself.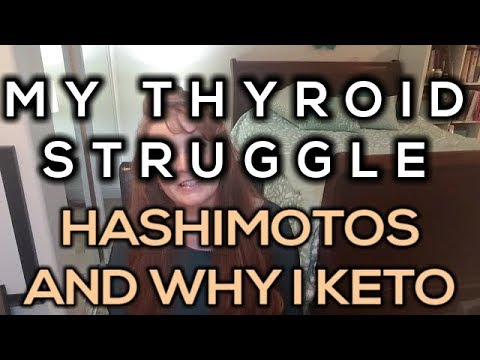 Click to see Video:
IF YOU HAVE HASHIMOTO Hypothyroidism Watch this! | WHY I KETO!
In Hashimoto's disease, the body produces antibodies, which gradually lead to the destruction of the thyroid, impairing its function along with its ability of hormone production, resulting in hypothyroidism. The major antibodies that are responsible for this disease are thyroid peroxidase (TPO) antibodies plus antithyroglobulin antibodies.
The thyroid gland has the shape of a butterfly and is located on the anterior side of the windpipe. It makes an important section of the body's endocrine system that performs the duty of synthesizing, storing, and applying hormones.
The thyroid regulates:
Temperature

Metabolism

Energy

Growth
Maintaining the balance of thyroid hormones is incredibly important.
Hashimoto's disease is one of the prevalent causes of primary hypothyroidism, which is a state in which there is adequate production of TSH by the pituitary gland, but the body's thyroid gland is unable to produce sufficient thyroid hormone in its response.
Moreover, it is nearly ten times more prevalent in
females
compared to males, affecting approximately 1-2 percent of all females.
Its development is greatly impacted by genes plus environmental factors like infections, nutrient deficiencies, and exposure to some drugs and chemicals.
Hashimoto & Hypothyroidism
Hashimoto's disease is mostly the first main reason behind hypothyroidism.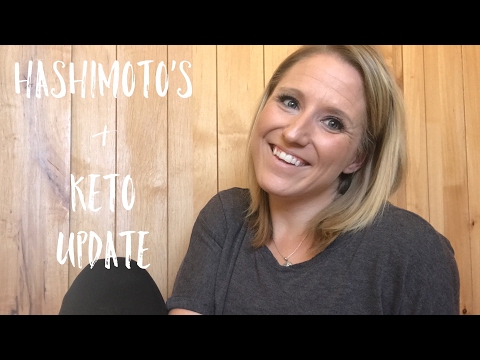 Click to see Video:
Keto & Hashimoto's Update - Avoiding The Flare
Most of the people with Hashimoto's disease develop hypothyroidism eventually. This can take a little while as this disease gradually gets worse with time.
During the time in which disruption of the thyroid gland is taking place, those with Hashimoto's disease can occasionally switch alternately between hyperthyroidism and hypothyroidism symptoms.
For example, they can show symptoms of quickly losing weight despite consuming more to being lazy and putting on weight easily. But over the course of time, the whole system gradually decelerates with the thyroid becoming underactive and incapable of synthesizing thyroid hormones.
Moreover, Hashimoto's disease is usually diagnosed by detecting elevated antithyroglobulin or thyroid peroxidase antibodies level within the blood.
Although research recommends that around 5 percent of people having Hashimoto's disease do not possess antibodies in their bloodstream, a thyroid biopsy or ultrasound will reflect variations that are indicative of this disorder. These people feature
milder symptoms
of hypothyroidism compared to those with raised antithyroglobulin or TPO antibodies.
Using the Keto diet for treating Hashimoto's disease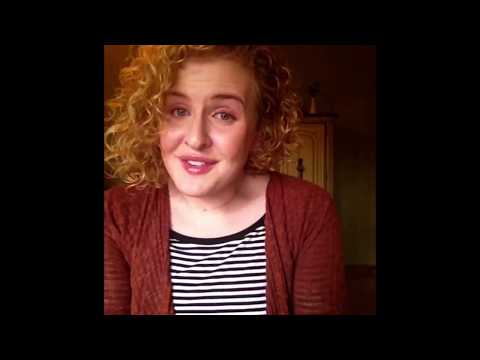 Click to see Video:
Week 7: Keto diet + Hashimoto's Disease
Besides medical treatment, there occur lifestyle alterations associated with a diet as well that may have a profound and positive impact on the treatment of this condition. For instance, you can reduce the risk factors for other autoimmune disorders like lupus, celiac disease, and type 1 diabetes

.
What is Keto diet?
The keto diet is a low-carb and high-fat diet that has lately become very popular for those wanting to get rid of some inches and excess weight.
Historically, this diet was used for alleviating the symptoms associated with pediatric epilepsy, till the time pharmaceutical companies gained control, by introducing anti-epileptic drugs.
The keto ration puts your body in ketosis in which fat is burnt either from the consumed food or the already stored fat for obtaining energy. This makes fat the main fuel source, instead of glucose that comes from sugar and carbohydrates.
Low-carb diets, like a keto nutrition plan, have been utilized as a way to decrease body fat. A section of this reduction of weight is because of calorie limitation, which is resulted by cutting a considerable amount of carbs from the diet.
A traditional keto ration normally limits the carb intake from grains, starches, and fruits to less than 15g per day. But different people feature different thresholds regarding the number of carbs they can eat without getting out of ketosis.
People who follow low-carb nutrition eat moderate protein, liberal fat, along with non-starchy veggies, and pay less attention to foods, which contain a high concentration of carbs. This renders the ketogenic diet highly satiating, and on the whole, easier to stick to as compared to other diets because of a large portion of fat that keeps you full for longer.
Moreover, there are various benefits of this diet, which we will explain in detail as you will read further, however in short, it's useful in improving the balance of blood sugar, energy, pain, inflammation, oxidative stress, and migraines. It can also add to better mood regulation and brain function.
In general, this form of eating promotes a healthy and efficient metabolism by breaking down excess fat plus stabilizing the levels of blood sugar. All in all, the keto ration simply allows your body to operate much more efficiently, and this can further permit a more balanced synthesis of thyroid hormones.
How Keto Diet Works
Before looking into the mechanism by which the ketogenic nutrition plan works, we need to first understand how various bodily systems convert the consumed food into energy that provides power to your cells.
The human body typically uses glucose (carbs) as its main source of energy. When the body becomes deficient of glucose that comes from your diet, it looks towards its stored energy elements, called glycogen.
Glycogen is present in muscle cells, but mostly it is derived from the body's liver. However, this glycogen that comes from the liver may quickly be depleted as it can store only around 100g of glycogen.
When the body does not have enough glucose levels (either from the diet or glycogen), it does not simply shut down. Rather, it consists of a backup energy source known as ketones or ketone bodies.
Ketone bodies are molecules that are water-soluble, synthesized from fatty acids by the liver. There are 3 kinds of ketone bodies – beta-hydroxybutyrate or BHB, acetone, and acetoacetate. These ketone bodies may become the major source of energy for the body and brain in times of glucose deficiency.
By restricting the carb intake in your diet, the fuel source of the body can shift from glucose (carbs) to ketone bodies, as this restricts flowing blood sugars. By this, the body switches from using glucose to using the fat that becomes repackaged as ketone bodies.
The metabolic state during which a certain amount of the body's fuel supply is derived from ketones present in the bloodstream is termed as ketosis.
Starvation or fasting puts the metabolism of the body into the ketosis state, as can the high-fat, low-carb keto diet.
Ketogenic Nutrition Plan & Hashimoto's Disease
It may be a little difficult to ascertain the use of the ketogenic nutrition plan for Hashimoto's disease as many of the studies focus mainly on keto's role in affecting weight reduction and appetite along with particular disorders like type 2 diabetes, instead of its effect on the thyroid function
Additionally, one important thing for you to know is that the traditional keto ration uses copious dairy products for the component of fat in the diet, such as cheese, and it is known that dairy may be a triggering factor for Hashimoto's disease. Using coconut or MCT oil instead of cheese as a source of fat can be a preferred approach for thyroid.
Low-carb nutrition can turn to be a very healthy and nourishing way of eating for people with Hashimoto's provided it is followed watchfully by excluding common reactive food items like soy, gluten, dairy, and grains. Excluding these foods, along with sugar sources, adds to alleviating benefits of low-carb nutrition.
However, those, who have autoimmune thyroid disorders, frequently require additional support as well beyond a typical ketogenic ration and can feel the need of eliminating other common reactive foods from their diet, including nuts, eggs, and nightshades.
Also, it is important to monitor the way you're feeling on a daily basis and ascertain how you're responding to the keto nutrition plan. The T3 levels can slightly depress initially, but this occurs as a part of physiological adaptation within the body due to
calorie restriction
that permits for an intense ketosis state along with the preservation of
muscle mass
with the levels of T4 and TSH remaining normal. However, if you're feeling good, then this isn't truly a concern.
As far as the scientific evidence is concerned that supports the keto's contribution to Hashimoto's disease, it is sufficient and encouraging.
A carb-limited diet typically structured on whole food items can be advantageous for many autoimmune disorders, including Hashimoto's disease. In fact, several people with this disease have observed improvements in their symptoms after opting for this kind of eating.
A
study
was performed in 2016 that enrolled 180 patients with Hashimoto's thyroiditis. One group was administered a low-carb (between 12-15 percent of calories), a high protein diet and additionally, they avoided goitrogens (substances that interfere in the thyroid function), dairy products, eggs, gluten, fruit, rice, bread, pasta, and legumes.
On the other hand, the other group (control) was administered a fundamental low-calorie meal plan that did not remove any particular foods in the same three-week time interval.
By the time when the study reached its end, the low-carbohydrate group revealed these following improvements:
40 percent reduction in antithyroglobulin antibodies

44 percent reduction in thyroid peroxidase antibodies

5 percent decrease in body weight
Contrarily, the group that followed the low-calorie diet revealed a 9 percent increment in their antithyroglobulin antibodies along with a 16 percent increment in thyroid peroxidase antibodies. Though both the groups experienced weight loss, the low-calorie diet group lost less of the fat mass and greater lean mass compared with the low-carbohydrate diet group.
Furthermore, many case studies support the role of the ketogenic ration in obese and
diabetic
people having
Hashimoto's disease
, when utilized together with thyroid hormone therapy.
In addition to this, avoiding foods that are high in carbohydrates and sugar can be advantageous for digestive problems. According to a
case-control study
that involved 45 individuals, 73 percent of them with Hashimoto's thyroiditis showed evidence of lactose and/or fructose malabsorption, which resulted in symptoms such as cramping, loose stools, gas, and bloating.
How Much Can You Go Low-Carb with Hashimoto's?
Low-carbohydrate food eaten by those in the above-mentioned studies contained around 60-130g of total carbohydrates per day. This can be outside the ketosis level for most of the people.
A lot of clinicians who use the keto diet for reducing weight, diabetes, or various other conditions suggest that their cases of Hashimoto's disease avoid an extreme carb-limited diet comprising fewer than 20g of total carbohydrates per day.
Dr. Broda Barnes, an endocrinologist who spent decades in researching the function of the thyroid and has worked with numerous thyroid patients, suggested at least 30g of net carbs (total carbohydrates subtracting fiber) for those with hypothyroidism together with thyroid hormone therapy.
If you are suffering from Hashimoto's disease and willing to try the ketogenic nutrition plan, it is advisable to avoid drastically severe carb limitation for an extended period.
Similarly, mild intermittent fasting, which involves consuming all meals in an eight-hour eating window, is considered fine, but prolonged fasting that involves 24 hours is not recommended for patients with Hashimoto's disease as it puts undue pressure on their thyroid gland.
Foods to Avoid in Hashimoto's Disease
Avoiding certain food items in case of Hashimoto's thyroiditis can help in lowering symptoms or even potentially slow down the progression of the disease.
Goitrogens
Several plants contain compounds named goitrogens, which can interfere in the ability of the thyroid gland to accept iodine along with inhibiting the activity of TPO.
They are present in many low carb healthy vegetables, including Brussels sprouts, broccoli, cauliflower, cabbage, kale, spinach, bok choy, and collard greens.
Since they provide fiber, antioxidants, and micronutrients to the body, giving them up altogether is not recommended. However, an ample intake of iodine may counteract the potential adverse effects of these compounds.
Moreover, fermenting, boiling, steaming, and microwaving these veggies can lower their content of goitrogens from
33-50 percent
or more, relying on the duration of their cooking time.
Inflammatory Foods
Because some foods can exacerbate the autoimmune diseases, excluding them from the diet or aggressively cutting back can potentially result in improved symptoms or/and disease progression.
Some of the most common inflammatory foods to be avoided are:
Gluten, because of the link between celiac disease (characterized by the incapability of the body to digest gluten) and autoimmune thyroid disorder

Other grains like millet, rice, quinoa, oats, and particularly those that consist of gluten like wheat, rye, and barley

Soy

Legumes including lentils, beans, and peanuts

Nightshade vegetables like tomatoes potatoes, eggplants, and peppers
Other foods that can exacerbate the symptoms and should be avoided include:
Dairy

Eggs

Food additives

Alcohol

All sorts of sugars, which include sugar replacements (excluding the infrequent use of natural honey)
Potential Benefits of a Low-Carb Nutrition in Patients with Hashimoto's Disease
Reduction of inflammation
Chronic inflammation works together with Hashimoto's thyroiditis and can result from diet, low-grade infection, injuries, and unstable gut flora. However, a well-formulated keto diet plan that contributes a good deal of anti-inflammatory food items can help in reducing inflammation.
A
study
was performed, which focused on one of the autoimmune conditions called rheumatoid arthritis that frequently occurs in patients with Hashimoto's disease. The results revealed that low-carb nutrition has an anti-inflammatory action because of the ketone BHB (beta-hydroxybutyrate), which inhibits NLRP3 inflammasomes that are instrumental in activating inflammatory responses.
So, it is very likely that lowering inflammation through a low-carb diet can help in improving symptoms associated with autoimmune thyroid disorders.
Improved levels of blood sugar
Scientists
have observed that around 50% of individuals with Hashimoto's thyroiditis have reduced intolerance to carbs. In other words, after eating carb-rich meals, their levels of blood sugar rise too quickly, too high. This results in an instant, sometimes excessing insulin secretion (an important hormone that shuttles glucose from the diet into cells for obtaining energy).
This rise of insulin tends to reduce blood sugar that might cause unpleasant symptoms like lightheadedness, nervousness, fatigue, and anxiety.
As a well-formulated keto diet comprises of a low percentage of refined carbs and sugar, it can be very helpful in stabilizing your levels of blood sugar.
A
study
was performed to analyze the effects of the keto ration on blood glycemic levels. It enrolled 28 obese participants with type 2 diabetes, and they were administered a low-carb diet for 16 weeks.
When the study got completed, the nutrition plan had improved their blood sugar levels to such an extent that their diabetes medicines were reduced or discontinued in most of the participants.
Improvements in brain fog & other mood-associated symptoms
Diets that stabilize blood sugar can have a useful impact on your brain as well. Many patients with Hashimoto's have noted that regular intake of sugar leads to brain-associated symptoms like headaches, dizziness, anxiety, brain fog, insomnia, fatigue, and depression.
As the ketogenic ration contains very low amounts of sugar, several people experience mild euphoria, which eliminates mood swings, brain fog, and other Hashimoto's disease symptoms, once their body adapts.
This mental clarity possibly comes from the stabilization of blood sugar along with the brain using ketones as energy.
Another striking feature of the ketogenic diet is that ketone bodies can conveniently pass through the blood-brain barrier. And the brain can use ketones efficaciously. According to
research
, the brain may source 75% of its fuel from ketone bodies.
So, the keto ration can help in improving mental symptoms associated with Hashimoto's disease in some people.
The Takeaway – Keto diet for Hashimoto's
Scientific evidence for low-carb nutrition and autoimmune thyroid diseases like Hashimoto's disease is definitely promising.
The anti-inflammatory property of the ketogenic meal plan, along with its quality for improving the balance of blood sugar levels, and brain-associated symptoms can provide an energy boost to your immune system, plus in certain cases operate in direct contrast to autoimmune hurdles.
Keeping a check on how you're feeling and performing, your levels of thyroid hormones, along with your antibody profile may help you in creating a personalized keto lifestyle, which is best for you.