Alzheimer's disease along with other associated neurodegenerative disorders that affect memory, decision-making, and behavior, are today not more than an epidemic striking Western societies.
Presently, the estimated number of Alzheimer's disease and dementia cases is
50 million
worldwide, which includes 5 million occurring in America and over 7 million in Europe.
Moreover, these figures are
believed
to rise by over 200 percent in the upcoming years, extending to 150 million new cases globally by 2050.
Since up till now, there exists no exact cure for Alzheimer's disease, its standard treatment protocol, is targeted towards controlling symptoms and problems associated with the behavior.
For the previous two decades, scientific research has been growing rapidly and
over 2900 clinical studies
for several interventions are underway at present worldwide, which include
studies
in many phases on over 100 latest drugs. Still, the
stats
for the effectiveness of drugs have been dismal.
But, there is increasing scientific evidence regarding the use of a keto diet for treating this disease along with being considered as conceivable prevention for it as well.
What science has to say regarding that? The results are promising. Let us see below in detail.
What is exactly Alzheimer's Disease?
Alzheimer's disease
is a progressive kind of dementia that was first coined in 1907 by a German psychiatrist named Alois Alzheimer.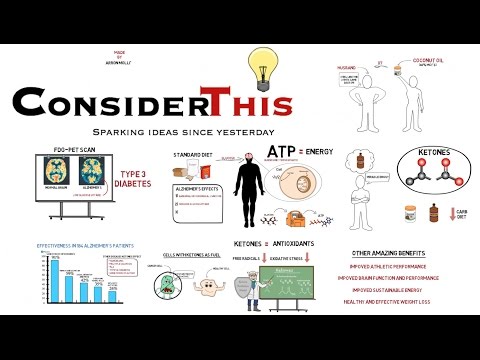 Click to see Video:
Ketones and Ketogenic Diet Effects on Diseases Like Alzheimer's
Alzheimer's disease remains the main cause of several cases of dementia globally.
Women
experience this neurological disorder at a greater rate compared to men and get it possibly more earlier in their life.
It is typically divided by the clinicians into three stages, early, middle, and late.
Alzheimer's disease at an early stage is difficult to diagnose and can share a resemblance with the regular age-related influences on memory. It is seen that the decline in cognition frequently begins gradually, which gets worse over the course of time.
Many of the
patients
do not get diagnosed until the challenges associated with memory loss and learning cause disruption of their daily tasks.
Symptoms
The symptoms of Alzheimer's disease include:
With time, challenges such as loss of power in recognizing people, aggression, and wandering result in enhanced demand for care.
The progress of this disease eventually leads to a complete loss of autonomy for patients. Moreover, if they attain an advanced-stage, the patients may be entirely dependent on their caregivers for fundamental needs such as eating and going to the toilet.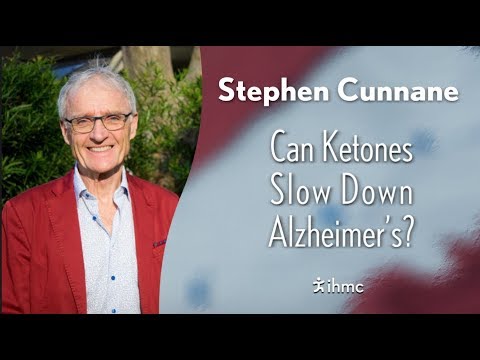 Click to see Video:
Stephen Cunnane - Can Ketones Slow Down Alzheimer's?
The life expectancy of Alzheimer's disease from the moment of diagnosis is 3-9 years. Mostly, the complications associated with the disease like dehydration, infections, or muscle wasting lead to death.
Causes of Alzheimer's Disease
Alzheimer's disease or AD is a neurodegenerative, progressive disease characterized by a declining loss of memory and aggravating cognitive impairment. It is extensively believed that lifestyle and genetic factors add to its development.
Alzheimer's disease is usually diagnosed through the presence of accumulation of tau protein (a protein that is abundant in CNS neurons) tangles in the brain cells, along with amyloid plaques (unpleasant protein aggregates, which have been associated with various diseases) that form among brain cells.
This combination leads to interference between cell signals that result in loss of memory and roadblocks within communication and thinking.
Investigators agree on the following three causes:
1.
Genetics, particularly APOE4 allele
The carriers of a gene variant for the
apolipoprotein allele (APOE)
possess a greater risk of getting Alzheimer's disease.
This variant has also been associated with disrupting the levels of blood sugar and making insulin resistance more serious. It even makes more ROS (reactive oxygen species). All these raise the risks of developing Alzheimer's disease.

2.
Oxidative damage & chronic inflammation
It has been seen that
oxidative stress
takes place when reactive oxygen species or a set of damaged cells and free radicals lead to inflammation throughout the brain and body.
Unlike oxygen gas,
ROS
possesses one electron that renders them greatly reactive. This added oxygen damages normal brain cells plus may accelerate cell death as well, which can result in the neurodegenerative disorders' development, including Alzheimer's disease.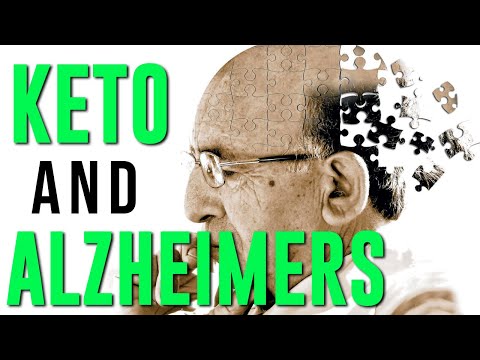 Click to see Video:
CAN THE KETO DIET HELP OR PREVENT ALZHEIMER'S DISEASE?
3. Insulin resistance within brain cells
Alzheimer's disease is referred to by experts as '
late-stage type 2 diabetes
' or '
type 3 diabetes
' because of the role that insulin resistance plays in its development process.
It has been evaluated that 70% of patients with type 2 diabetes will develop Alzheimer's disease and experience a sharp decline in their cognitive processing at a higher rate.
The Mechanism of Insulin Resistance & its Association with Alzheimer's Disease
The levels of blood sugar rise with the intake of carbs (sugar). The function of
the insulin
hormone is to shuttle glucose in the liver cells and muscles for use or alternately store for future purposes.
A diet rich in carbs constantly deteriorates the response of the body to insulin. The cells eventually start to resist (ignore) insulin, while glucose stays in the bloodstream, continuing to raise the levels of blood sugar.
Insulin resistance causes type 2 diabetes. Moreover, it impacts all the cells, which include brain cells.
The hallmark of Alzheimer's disease is the inadequacy of the brain cells for uptaking and metabolizing glucose. By this, it is meant that
brain cells
are unable to absorb the energy they require (glucose), and as a result, they shrink, starve, and die.
Though this is not the worst portion, the body senses the extra sugar within the blood and starts secreting more insulin for eliminating it.
Sadly, the enzymes, which are responsible for breaking down insulin hormone, are the same ones, which break down amyloids as well. Since the body is overrun with handling spiked insulin levels and amyloid break down, the
toxic amyloid plaques
get accumulated that poison and block brain cells.
Furthermore, this makes one of the major reasons behind the potential effects of the ketogenic diet in treating Alzheimer's disease. Many scientific investigations reveal that
low-carb nutrition
triggers improved insulin and blood sugar levels, better performance of verbal memory, and higher memory processing in the older population with an enhanced risk for Alzheimer's disease.
Risk Factors of Alzheimer's Disease
As per scientific research, the crucial risk factors of Alzheimer's disease are:
Although age is a risk factor that has the greatest predictive value, it is not very useful on an individual level. Most of all, everyone faces aging.
The one particular predictive genetic indicator for this disease is possessing at the minimum one gene mutation copy of APOE4 that can possibly enhance your risk
2-3 fold
. Contrarily, the gene mutation in
APOE2
can prevent Alzheimer's.
An
immediate relative
that has Alzheimer's is shown to raise Alzheimer's risk by around 73 percent.
Other factors like insulin resistance, elevated blood pressure, and concussions, can all significantly impact the risk of getting this disease. For instance,
elevated blood pressure
during mid-life may spike your Alzheimer's risk by 60 to 95 percent.
Also,
research
published in 2017 in a journal named Alzheimer's Research & Therapy revealed that nearly one-third of its cases can be prevented if people change the modifiable risk factors.
Promising Evidence of a Keto Nutrition Plan for Alzheimer's Disease
It has been known for long that the human brain can utilize
ketones
for meeting a major part of its energy needs. The liver synthesizes these ketone bodies from fatty acids that come either from the fat present in the diet or the stored body fat.
Scientific evidence that some impaired brain processes may improve by raising the utilization of ketone bodies for brain energy has been present for nearly a century.
Dr. Mary Newport used the ketogenic diet, high in exogenous ketones, MCT oil, and coconut oil, for treating her husband when he got diagnosed with Alzheimer's disease. She pioneered the discussion and research on a keto meal plan for this neurological disease, and here is what she, along with many other subsequent investigators, learned:
Ketones provide a clean alternate source of energy to brain cells
It has been known for long that the human brain can utilize
ketones
for meeting a major part of its energy needs. The liver synthesizes these ketone bodies from fatty acids that come either from the fat present in the diet or the stored body fat.
Scientific evidence that some impaired brain processes may improve by raising the utilization of ketone bodies for brain energy has been present for nearly a century.
When the uptake of glucose is blocked, the body cells require another way to get their energy demands. Fortunately, glucose is not the only energy source for the body. Once refused carbs (sugar), the body switches to fat for producing and then using ketones, such as BHB (beta-hydroxybutyrate), acetone, and acetoacetate as its major energy source.
This can be useful for patients with Alzheimer's disease because:
Ketones move the scale of GABA/Glutamate in your support
There exists a unique sliding scale within the brain comprising of GABA (gamma-aminobutyric acid, a natural amino acid, which serves to be a neurotransmitter inside the brain) plus glutamate (neurotransmitter). Chiefly,
glutamate
creates excitability while GABA produces calmness.
Studies
have found that people having greater levels of glutamate are likely to have higher risks of developing neurodegenerative diseases and chronic inflammation.
But a
low-carb diet
tends to lower the glutamate levels in your brain, so there is more GABA. Ketone bodies even
halt
the loading up of brain cells on glutamate, thus they are less problematic and hyperactive.
Low-carb nutrition is high in advantageous MCTs
Scientists have used
MCTs
(medium-chain triglycerides) for as long as the 1950s to increase ketone bodies in the bloodstream.
MCT oil that comprises over 50% healthy fats present in coconut oil, offers a rapid way of boosting ketone levels. Many
studies
link MCT oil plus spiked levels of ketones with improved memory recall, cognitive functioning, plus delayed and immediate memory tests.
As per scientific investigations:
The intake of MCT oil raises the levels of ketone, even in the presence of carbs. This means that you don't need to go for a
strict
keto nutrition plan to attain maximum benefits. But the improvements observed in many individuals vanished when they put an end to keto ration or intake of MCT oil.
Can a Ketogenic Ration Prevent Alzheimer's Disease?
Although the exact answer, which proves if ketogenic ration can prevent AD may not be there currently. However, with the presence of continuously growing scientific evidence and promising findings, as discussed above, one cannot deny the keto diet's potential in preventing Alzheimer's disease.
The Final Word: Keto Diet for Alzheimer's
The aim of neuroprotection lies in either stopping or slowing down the affair of brain cells death. Evidence suggests as the keto diet can potentially reverse type 2 diabetes, it can reduce risk factors of Alzheimer's disease as well.
This includes decreased insulin and blood sugar levels plus less oxidative injury. Moreover, powerful ketone bodies that are produced when on low-carb nutrition (or with supplements of MCT oil) offer a clean source of energy for those who are unable to use glucose properly. When the brain cells experience no further starvation for fuel, individuals may encounter fewer Alzheimer's disease symptoms, along with improved overall comfort.
It has also been seen that keto may certainly help in addressing various modifiable risk factors of Alzheimer's. Early research for this diet in Alzheimer's has been very encouraging and suggests that it corresponds favorably to the mechanisms, which underlie the development of this disease.
The keto diet is safe, functions exceptionally well for some different health problems, and is an effective way of gaining more energy, fewer cravings, and clearer thinking.
However, if you prefer not diving into keto straight away, several studies have found that using ketogenic supplements such as ketones or MCT oil can be helpful, as well.