Tim is one of the best professional baseball players who played for different clubs and achieved many awards in his career. He is also the former professional football quarterback. He played college football for the University of Florida.
Yes, you guys are guessing it right. He's none other than Tim Tebow. Tebow is an American professional baseball player. He plays for the New York Mets of Major League Baseball. While going through his career highlights, you might be able to know the success of Tim Tebow.
His career highlights include:
2 times BCS national champion (2006, 2008)

2 times SEC champion (2006, 2008)

2 times SEC player of the year (2008, 2009)

2 times Heisman trophy finalist (2008, 2009)

AP player of the year (2007)

Heisman trophy (2007)
Tebow is also known for his outspoken views on Christian faith. He used to genuflect on the football field, which got fame as "Tebowing." He is also known for his athletic prowess. He played with bravery in the field, either it is football or baseball.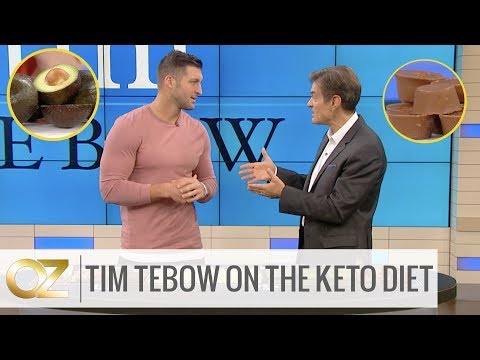 Click to see Video: Tim Tebow Explains How The Keto Diet Breaks Down Fat
He's the living legend in the baseball sport and has played a vital role in the victories for his time.
People playing any sports usually have a very sound and healthy body as they train hard in the gym and eat only those things which are beneficial for their body—many people just dream of a body like them. Tim has a slim, smart, and gorgeous body with ABS. It is the result of his hard training in the gym.
Tim's body physique is driving people mad to know the secrets behind his attractive personality. He surely did something which can be done by you and me. So let's have a look at what Tim Tebow does to have a captivating look.
Tim Tebow - A Motivation
You guys might have seen the best pictures of Tim Tebow on Instagram. His Instagram pictures literally make me think of his routine, which he follows to stay in shape as he is. People who follow him on Instagram might know that he started the keto diet in 2012.
What were the motives for starting this diet? As you know, he is a sportsman and was already fit, then what was the reason behind taking the low-carb diet?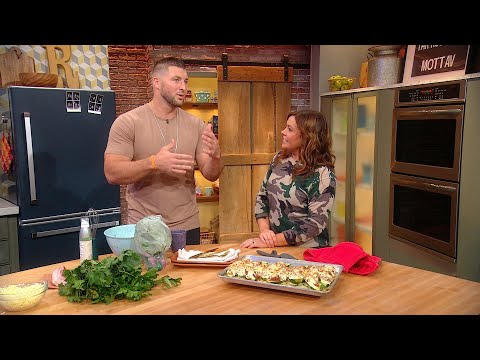 Click to see Video: Tim Tebow On Doing Keto For Over 7 Years
Tim's father was diagnosed with Parkinson's disease. In Parkinson's disease, the patient's brain slows down a little bit, and his doctor advised him to follow keto. And this changed the eating style of his whole family.
"When you have Parkinson's, the brain slows down a little bit,"
Tim explains. "They believed all of the good fats would help his brain. It kind of changed our whole family and the way we ate," the former quarterback says.
What Keto diet really is?
A question will surely be hitting your mind that what is keto? Don't put your mind in doubt; all the information regarding keto will be given to you.
A ketogenic diet is the intake of low carbohydrates, high fats, and proteins in your body. You have to take high fats and proteins to lose weight and get maximum benefits from it.
On keto, you have to take maximum calories from fats and proteins while minimizing the intake of carbohydrates. When you take less than 50 grams of carbohydrates every day, the human body loses energy. After a few days, about 3 to 4 days, the body starts the breakdown procedure of proteins and fats to utilize energy from them. This is the working of keto.
It is completely natural.


Click to see Video: How to Burn Fat on the Keto Diet, According to Tim Tebow
Why keto?
A ketogenic lifestyle is an eating plan which focuses on the foods which furnish the body with healthful fats, adequate amounts of proteins, and very fewer carbohydrates. Here I am going to tell you some benefits of the ketogenic diet.
Weight loss
If you are overweight and fed up with your current physique and have to listen to abusive things from society, then go for low-carb nutrition. It supports massive weight loss by increasing your metabolism and reducing the appetite.
Reduces the risk of cancer
According to some researchers, keto is helpful in preventing or even curing some types of cancers. Although the research in this department is limited yet, some research indicates that low-carb ration might have benefits in cancer treatment.
Protect the functionality of the brain
During keto, ketones are generated, which provide neuroprotective benefits that strengthen and protect the brain and nerve cells. Keto might help a person suffering from Alzheimer's disease to prevent or manage its condition.
Reduces the fear of epilepsy
The low carb high fat diet results in ketosis, and it is a metabolic process during which the ketone bodies are used by the body for fuel.
According to research in epilepsy, it suggests having keto as it reduces the seizures in people having epilepsy. It works especially on those persons who haven't responded to other treatments.
Improves acne
Keto improves acne. When you decrease carbohydrates in your food with high fat and protein intake in your body, it reduces the acne symptoms.
Improves the working of the heart
The low-carb nutrition allows one's heart to work properly. When you take healthy fats, it helps to reduce your cholesterol. If you have high cholesterol, then there is a danger of cardiovascular disease.
A person doing keto will reduce the risk of heart complications. It is important to eat healthy to make your heart work properly.
Your favorite baseball and former football player Tim Tebow, while in an interview said, "What keto really is, to sum it up, is a high fat, moderate protein, low to no carbs and sugar,"
While reading the benefits of the low carb diet, you would have understood why Tim Tebow has been on keto since 2012.
Tim Tebow's Keto
In 2012, Tim started the ketogenic diet as a result of a suggestion given to him by his trainer. His trainer told him to go with this trendy diet as it was being followed by many people. Tim told a journalist, "A trainer I worked with told me about it, and he told me what was happening for so many people. I tried it; I loved it."
Tebow is a super-fit guy with adorable looks. He praises low-carb/high-fat nutrition plan and considers it as a friendly diet as it allows you to eat a variety of delicious foods. It is just a diet plan which should follow the low-carb principle. And what is the main principle of keto? Yeah, you are guessing it right. It is the intake of low carbohydrates, high fats, and proteins in your food.
Talking about the meals of Tim, he has a variety of different meals every day, which won't let him get frustrated. Yeah, it is obvious that you get frustrated by eating the same food every day.
Here I am going to tell you the meals of Tim Tebow, which will help you to start an amazing ketogenic diet and get the benefits of this rich diet.
Breakfast of Tim Tebow
Tim loved to have a tasty and powerful breakfast, which won't let him feel hungry till lunch.
His breakfast included:
Avocado scramble

Strawberry vanilla shake

Mocha boosted coffee

Avocado power smoothie
He also loved eggs for breakfast. His affection towards eggs can be seen through the statement, "I have eggs in some form, whether it's an omelet with spinach, ham, bacon, and sausage all in three, or a scramble with avocado."
Lunch of Tim Tebow
Guys! If you indulge yourself in preparing ketogenic meals every day, then you surely will run away from keto very early. So you have to deal with this scenario. Planning has a very important role in doing keto. You must plan your meals prior to the time so it won't frustrate you or create fatigue.
The lunch meals of Tim were:
T

aco salad

Caesar Salad

Chocolate keto smoothie with nut butter
Delicious dinner of Tim
Dinner is a thing which I think should be of great taste. Tim likes to have a delicious dinner, which relieves the frustration of the whole day. Some of the recipes which Tim had in his dinner are:
Bunless burgers

Chicken curry

Pan-Seared Salmon

Marinated Hanger Steak

Chicken Piccata
Desserts
People who are having a sweet tooth would be happy to hear that you can have desserts while on keto, but these desserts should be keto-friendly. There's a list of deserts that were taken by Tim Tebow in low-carb nutrition.
Chocolate coconut energy balls

Keto ice cream
Tasty snacks
Snacks have a pivotal role in the ketogenic diet. It won't restrain you from eating in between the meals. If you feel hungry, eat these snacks to fill your appetite.
Macadamia nut butter

Meat snack sticks

Guacamole

Cheese crisps

Seltzer water

Greek yogurt
Just have a look at what Tim says regarding his eating style.
"I usually eat until I'm full,"
he said. "I mean, you don't want to overdo it, but I think eating the right things is more important than portion control. If I'm eating the right things, they're going to fill me up with the right amount of fat and protein."
Add whatever you like!
As I mentioned earlier, keto is a friendly diet. You can eat anything you crave for just under the principle of low-carb/high-fat nutrition. Making things easier for you people, I'm going to tell you some other eatables which you can take on keto.
Olives

Mushrooms

Seafood

Fish

Salads

Vegetables

Fruits (Low in carbs)

Almonds

Cream

Butter

Pistachio

Cashew nuts

Walnuts

Coconut oil

Meat

Cheese
This long list of things you may eat on the low carb diet. These foods are low in carbs and high in fats and proteins. It will help you to attain all the benefits of keto, which are being utilized by Tim Tebow.
Things you must prevent from
There's a long list of things which you can take on keto. But there's also a list of things from which you have to run away. The most important thing which you should restrain yourself from intake is Sugar.
Yes, boys! You read it very right. There's no room for Sugar on the ketogenic diet. If you love to eat sugary products and lose your control while seeing sweet things, then you must leave all this or stay as you are.
Sugar is the mightiest reason for obesity. It not only fattens the people but also takes the charm of your skin. It increases your age factor and makes you look older than your age. Do you guys want to look older? Aging will give you wrinkles on your skin, which will grab the glory of your face. So guys! No sugar at all.
Tim also considered sugar as the main cause of obesity. While in an interview, "So many things are full of sugar, carbohydrates, and things that will spike our insulin, which causes people to crash afterward and store more fat," Tim says.
Boys! Along with Sugar, you must restrain from some other things if you are eager to look like Tim Tebow.
Those things are:
There should be no processed food in your diet.

No grains, pasta, rice, cookies, and pastries.

Say no to junk food.
You have to give up these to lose weight and get the perks of low-carb nutrition.
"You may be the only person left who believes in you, but it's enough. It takes just one star to pierce a universe of darkness.
Never give up."
Be consistent, enjoy life!
The high-fat/low-carb diet demands consistency and determination. Your every goal and aim demands your consistency and determination. You should start this diet with a solid determination, keeping the perks of low carb ration in your mind. It won't let you distract from your goal's path. Look at the rough hard physique of Tim Tebow and make your mind that you will have a solid body even better than him.
Now when you have taken the decision of taking this diet, then don't leave it in the way until you get for what you started it. If you are not satisfied with yourself, then remember, you are not done yet. Make a solid resolve like a rock that you won't leave it.
"Our doubts are traitors and make us lose the good we might win, by fearing to attempt."
Don't let your fears win the race, guys. Overcome your fears to achieve what you dreamt for. As you are the only one to this, no one else will stand by your side to motivate you more than yourself.
Some useful things to do
To help you in remaining consistent with your goal, I've come with some useful tips that will surely help you in sticking to a ketogenic lifestyle, and it won't let you bore too.
Setting reminders has key importance. You have to set reminders regarding your meals, so you don't forget to prepare your meals.
You can set reminders on your cell phones.
Humans are bound to eat those things which are near to their taste and are yummy.
So make meals according to your taste.
Snacks play the role of energy drinks in your body. Snacks help you to fill your appetite in between the meals.
Healthy snacks with fats and proteins should be taken.
No processed or junk food
As discussed before, processed and junk food is the biggest cause of fleshiness. They harm your body and damage your body shape too. I know people crave burgers, pizzas, and other food too much, but you have to choose one thing; junk food or body like Tim Tebow. Drink plenty of water to lessen your cravings for fast food.
Aware others to follow this diet
Nowadays, many of us are the victim of obesity and are not able to control it. People don't know the proper ways to control this disease. Low-carb ration will help them to lose weight and enjoy their life differently. Your success stories might motivate others to start the low carb diet.
"In vain have you acquired knowledge if you have not imparted it to others."
Join ketogenic groups on www.KetoForHealth.org to know the experiences of people going through it. Get to know new and delicious low-carb recipes, which will make your diet enjoyable.
The low-carb nutrition has some short-term side effects which occur at the start. Some short-term side effects of the diet are:
Hypoglycemia

Fatigue

Keto flu

Constipation

Leg cramps

Shakiness and lightheadedness
These are some short-term side effects that will pass quickly.
Adopt keto; enjoy life!
Guys! Tim is idealized by many of us. He is a tough guy with the best health. He didn't join the ketogenic diet to lose weight. However, he considered the low-carb/high-fat diet to be the reason for weight loss for many people.
During an interview, the interviewer asked about those doctors who support this low-carb nutrition, and on the other hand, some people put sheer criticism on this diet.
He replied, "Whatever diet, you're going to have people that are going to knock it. and I wouldn't say that it's right for everybody, but if you are looking for an alternative way, then talk to your doctor or give it a try."
And he concluded this in a beautiful manner by saying, "But I think what a lot of people can agree on is sugar and carbs are the enemies."
"The will to win, the desire to succeed, the urge to reach your full potential… These are the keys that will unlock the door to personal excellence".
Nothing artificial, everything natural
Boys! There are several diets that pledge to lose weight and give you a healthy and attractive look. Keto is totally natural. It only asks you to consume food having low carbohydrates and high fats and proteins, which make your body lose weight naturally.
"Don't wait for the right moment to start, start, and make each moment right."