A woman above the age of 50 is probably more involved in getting rid of excess weight than she was at the age of 30. Many women of this age experience a slower metabolism that has a 50 calories rate each day.

The coupling of a decrease in muscle mass with varying hormone levels, less exercise and the capacity for enhanced cravings can cause losing weight, even more, harder for women above 50. With so many diet choices available that help in losing weight, the keto diet is one of the most favored of late.
Generally, women are more sensitive to changes in lifestyle and diet. The reason is their reproductive cycle and fluctuating hormones. And a significant change such as the keto diet can produce chaotic hormonal variation in them, which can result in exhaustion and fatigue.
Some of them may experience a little more intense kind of 'keto flu' while others can experience thyroid problems, as thyroid requires glucose for creating hormones.
By considering all these, it is wiser that women must not similarly approach this diet like men.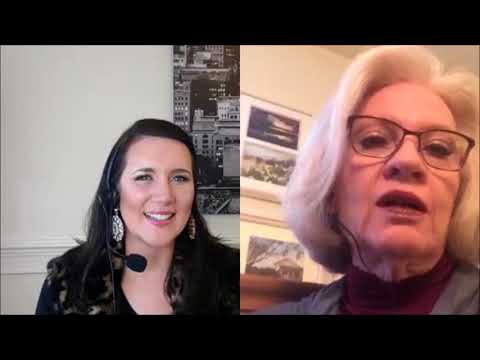 Click on the image to see Video:
Keto Success Stories Women Over 50 & 60 | Ketogenic Diet Success Stories Weight Loss Over 50
Below we will provide science-backed guidance for all you need to know regarding losing weight through the keto diet specifically for women over age 50.
What is the Keto Diet?
The Keto diet is a low-carb, high-fat, and moderate protein technique of eating that encourages your body to burn fat more efficiently instead of carbs.
Scientific studies
reveal its beneficial role in losing weight and a positive effect on overall health.
Primarily, this diet is useful for people to
lose unwanted fat
from the body without severe cravings, which are common in other diets.
While low-carb eating has been a renowned weight-loss instrument, but according to a
2019 study
, it also provides some great health benefits, such as a decrease in knee pain in patients of knee osteoarthritis.
Also, the result of a systemic review and meta-analysis shows dietary carbohydrate restriction can help type 2 diabetics to
improve their glycemic levels and symptoms
.
Its macronutrient ratios can differ from an individual to individual, here's what is most common:
5% carbohydrates

70% fat

25% protein
These percentages can look a bit approximate, but they can be useful once the person gets used to it.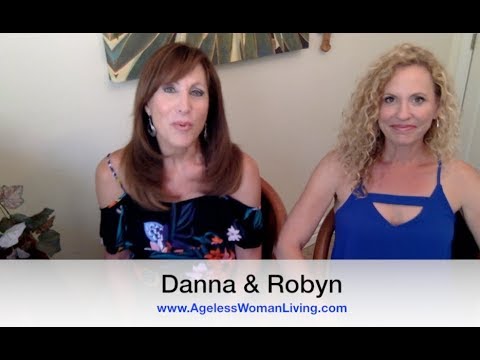 Click on the image to see Video:
Keto for Women Over 50
How the Keto Diet works?
Ketones or ketone bodies are the core of the keto diet. When your body runs low on glucose, it produces ketones (fuel molecules) that serve an alternate source of energy.
The production ketones take place when the carb intake is reduced, and protein is consumed in just the correct amount.
When keto-approved foods are eaten, the liver can convert fat into ketone bodies that are then used as a fuel alternative by the body. This process of using fat as a source of energy is termed as ketosis.
The ketosis forces your body to burn fat dramatically in certain cases, which helps to reduce pockets of excess fat.
This technique of burning fat not only assists you in losing weight but also can substantially avert cravings and avoid energy crashes all through the 24-hour period.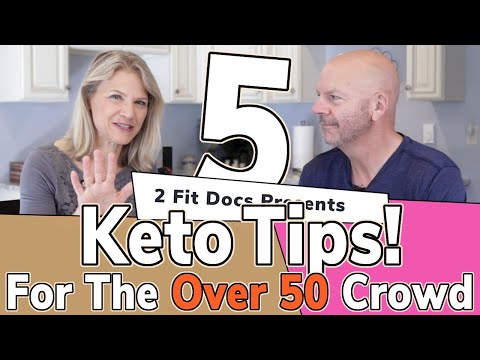 Click on the image to see Video:
5 Keto/Low Carb Tips for The Over 50 Crowd from 2 Fit Docs
What are actually Keto-Approved Foods for Women over 50 & 60 ?
Though it is quite easy to tell that the keto diet, in reality, is low on carbs and high on fat, it is always a little more difficult when you are shopping grocery for this.
Here we bring you a range of food items that are right for women over 50 who follow the keto diet.
What to Eat
Meat:

You should prefer eating unprocessed meat as they contain no or fewer added carbs.

Eggs:

Prepare them as you prefer.

Fish & Seafood:

You should avoid eating breaded fish as they contain added carbs.

Vegetables:

Try eating those vegetables that naturally grow on top of the ground.

Nuts:

They serve as an excellent source of fat but you should avoid overeating them.

Dairy Products:

You should prefer high-fat items as low-fat often contain added sugar.

Berries:

You can eat them in a moderate amount.
What to Avoid
Sugar:

This is the most important thing to slash.

Starches:

Rice, pasta, white bread, starchy vegetables like potatoes.

Beer/Alcohol:

You should avoid them as they contain a lot of sugar and carbs.

Fruits:

You can eat the fruit in small quantities, but eating them too much can add sugar to your diet.
Benefits of the Keto Diet for Women
According to the American Association of Retired Persons (AARP), both a low-carb diet and a low-fat diet are effective for losing weight. However, there are worth considering the health benefits that come with low-carb diets. As mentioned above, a
study
was performed in 2019 to see the effects of low carb and low-fat diet in adults suffering from knee pain with osteoarthritis that affects 15% of people in the USA.

Researchers found after assigning low-fat or low-carb diets to subjects that the low-carb diet was more efficient in decreasing knee pain among them. The authors even suggested that a low-carb diet (keto) can be considered as an alternative to many pain-relieving drugs in this regard.
In addition to this, according to
Mayoclinic
,
the keto diet can also help in improving HDL cholesterol, also called good cholesterol and triglycerides more effectively as compared to carb-heavy meal plans.
The reason behind it is the nature of this diet, which features lots of healthy fats, lean protein, and unprocessed carbs, which prove to be healthy food choices as compared to the typical American diet.
Is the Keto Diet Good for Women over 50 & 60
?
This diet can offer you many benefits, particularly weight reduction.
The main idea is to prefer eating an amazing balance of lean meat, unprocessed carbs, and vegetables.
Just adhering to the intake of whole foods is probably the most effective way of consuming healthy, also because it is a sustainable move as well.
It is also noteworthy that many studies suggest that the keto diet is difficult to hold with. So ideally you should find a healthy way of eating which also serves you.
What can make Keto work for Women?
One of the most worth-considering things, when a woman opts for the keto diet, is stress. Anybody would like to bring a change in their life by putting the smallest burden on their body.
As every female body is different from another, here are some points that will prove to be helpful to you for easing into this diet. These tips will be useful in a form that will produce some weight reduction in actuality.
Commence Slowly
The abrupt change that occurs when you go from a regular diet, directly into a high fat and low carb diet can drastically affect your body. It is also one of the most challenging parts of the keto diet.
As mentioned above, this can result in the total opposite of the idea behind the keto diet if it spikes up the production of cortisol hormone. Not only women face the effects, but men also report an upset digestive system that occurs through an abrupt increment in the intake of fats. So the best is to start gradually.
This abrupt shift can also result in keto flu, whose symptoms include weakness, headache, and muscle soreness. The reason behind it is that your body does not change from breaking down carbs to breaking down fats in a jiff. It needs time for this process.

Also, the sudden variation can result in the body into the starvation mode, which can again give you undesirable symptoms. So again, commence slowly.
By this, it can mean that it will require 1-2 months to transition, depending on the starting point. You should try not focusing on the weighing scale in this transition period. Instead, be alert about how you are feeling and the decisions you are making each day.
Transition
Transition is an essential key when you are ready to start the keto diet. You will start by swapping the processed carbs in the diet with more of whole food carb choices.
You can swap pasta and bread for starchy squash such as acorn and butter, and also sweet potatoes.

You can change from the usual pizza crust to cauliflower keto pizza crusts.

Stay away from ice cream, cakes, and cookies and prefer whole fruits.

Also try keto-approved sweeteners such as erythritol, stevia, or monk fruit.
These changes, while still challenging, will not create a sense of starvation for you. The reason for this is you have not substantially reduced the carbs yet in your diet. What you have done is altered the
source into something more ideal.
Add, don't Subtract
When you start consuming more of the whole foods every day, it is about time, to begin with, more vegetables.
You should set a vegetable aim for each of the meals in a day. This transition can mean preferring a decrease in starchy carbohydrates to less starchy vegetables. But, this does not have to. You can make the shift slowly and steadily. You should try eating different foods still if some of them will not in due course be a large component of your diet, such as
Orange carrots

Yellow squash which includes starchy squash such as butternut or acorn

Red beetroot

Spinach, broccoli, Brussels sprouts, green beans, etc.

Artichokes, purple eggplant

Blue cabbage
When you begin to add more fat gradually in your diet, you can cook these vegetables with healthy fat as following:
Olive oil

Ghee i.e. clarified butter

Macadamia nut oil

Coconut oil

Avocado oil
This is one good time in your transitioning phase, to begin with, avocados as well. Add half of it in your salad, or scoop half of it into a chicken salad at lunch.
This second stage leads towards more of a paleo-style nutrient-dense plan. One that comprises of adding food instead of slashing out and experiencing deprivation the entire time.
Eating Right amount of Protein
As mentioned above, it can be harmful to women if they do not consume protein in the right amount. A woman with a reference bodyweight of 154 lbs. (70 kg) should consume
70 to 119g
protein each day.
These proteins include eggs, fish, chicken, beef, cheese, and even protein shakes and collagen powders. In the presence of insufficient consumption of protein comes muscle wasting, which is not what we are looking for in the keto diet.
For this, you are required to pay attention if you are experiencing weakness, muscle cramps, or hunger. If this is so, you might wish to enhance your protein intake. We will discuss more on staying alert in the following point.
Focusing on eating high-quality protein and the fat source is another very crucial thing. Low-quality meat sources can comprise of toxins. Pesticides, herbicides, antibiotics, and growth hormones are all regular meat by-products which are needed to be best avoided.
Consuming high-quality fish and meat decreases the toxic load by lowering the stress it can cause in your body. You should opt for pasture-raised or grass-fed, organic eggs, dairy, and meats as they make one of the ideal protein sources.
Stay Alert
You need to pay attention to the state of your body. By this it means, you should pay attention while you are eating. When you are full, just stop eating – neither before nor after being full.
There is no reason for depriving yourself when on the keto diet. The fats in this diet will fulfill the purpose of satiety. The basic idea is to enjoy the food without stuffing yourself. Staying alert about how you are feeling is extremely essential, particularly for women, because of the risks mentioned above.
In case of prolonged symptoms of keto flu, you can take a break until you feel better. This can probably indicate adding a little more carbs and protein in your everyday diet. Moreover, if you experience weight gain, change in mood, acne, or hormonal imbalance signs, then there is something not right.
Return to the first stage of transition and add greater starchy veggies and fruits in the diet. If exhaustion or weight gain continues, you should get blood tests done to check thyroid and other hormone levels.
Weight Training
This diet provides many benefits to overall health and weight reduction, but it is always best pairing it with exercise.
Since you cannot exercise a way out from not so good diet, adding weight lifting in your diet will build your muscle and will help

to
increase your metabolism
.
This weight lifting does not need to be very excessive- 90 secs targeted for each muscle group, two times a week, is enough. It is recommended that it should be a sufficiently heavyweight that doesn't allow another repetition after performing 10-15 lifts.
You should ensure rest days in the middle of heavy exercise in order to provide recovery to the body.
Enough Sleep
Many women experience sharply deteriorating sleep quality during menopause often due to night sweats and hot flashes. It is recommended that women during weight reduction plateaus should get sufficient sleep because lack of sleep can spike
cortisol
levels which increases abdominal fat.
Treat the ketogenic diet as a way of life, not only as a diet
Since you are unable to do anything very limiting as a way of life forever, the perfect way for a woman to advance towards the ketogenic diet is to take it as a lifestyle. This is one of the major reasons behind the failure of fad diets in which a lot of is taken away for getting instant results and then all is brought back, returning you to where you began or even worse.
The keto diet is not meant to be followed at the most restricted forever unless in the case of a therapeutic diet like in epilepsy. Preferably, you are gradually transitioning in a way that can be healthily sustained in the long run.
This makes you believe that you will not be in the state of ketosis each day forever. It means that you can treat yourself with few desserts on a special occasion and having setbacks does not end the diet. For it, you can go back to the version of keto that is beneficial for you the next morning, continuously.