A keto diet or a ketogenic diet is a way of eating that involves eating foods low in carbohydrates and high in fat, resulting in faster weight loss. This diet has many health benefits.

The keto diet can be useful for reducing body weight without feeling very hungry and for controlling type 2 diabetes. Here you can learn how to properly follow a ketogenic diet using natural products.



What is ketosis? How to enter ketosis?
Energy for the body comes from the food we eat. The main components obtained by the body from food are fats, proteins, and carbohydrates. Our body processes them to simpler molecules: carbohydrates - to glucose, proteins - to amino acids, fats - to glycerol and fatty acids.

At the same time, the main "fuel" for us is precisely glucose, into which all others can turn. However, during fasting or on the ketogenic diet, ketone bodies synthesized in the liver become the main source of energy.

Ketone bodies are an alternative source of energy for the body, which is used when there is a lack of glucose.
Ketones are formed when a person eats a small number of carbohydrates, which quickly break down into glucose and a small amount of protein (excess protein is also converted eventually into glucose).

​The brain is an energy-consuming organ that consumes a lot of energy during the day. The brain receives energy from ketone bodies and glucose.


On the keto diet, since the consumption of carbohydrates occurs in low doses, the level of the hormone insulin decreases, and the level of counterinsularnyh hormones increases.


Under their influence, the body begins to actively break down fat reserves to produce energy with the formation of a large number of ketone bodies.

The keto diet promotes rapid weight loss, while there are other benefits of such a diet: reducing the feeling of hunger and increasing "vital energy". The ketogenic diet makes us more energetic and concentrated. When the body produces ketones, it enters a metabolic state called "ketosis".

The quickest way to achieve ketosis is to starve, to eat nothing — but no one can stand starvation for long. However, a competent keto diet can be followed for a long time, maintaining your body in a state of ketosis.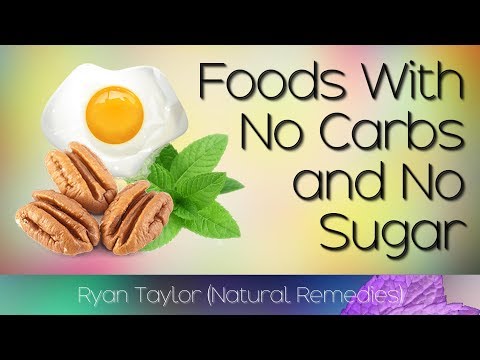 Foods with No Carbs and No Sugar
What can I eat on the ketogenic diet?
The most important thing to achieve ketosis is to avoid consuming large amounts of carbohydrates. ​It is necessary to maintain the consumption of carbohydrates less than 20g/day. The fewer carbs you consume, the faster ketosis is achieved and, as a consequence, the decrease in body mass.
Products allowed on the keto diet
You should eat real low-carb foods such as meat, fish, eggs, vegetables, and natural fats such as butter and olive oil. Stick to foods with less than 5% carb content.


Meat. Unprocessed meat is low in carbohydrates and suitable for the keto diet, organic grass-fed meat can be even more beneficial. Do not forget that the keto diet is a diet high in fat, not protein, so you do not need a huge amount of meat.

Please note that processed meat (sausage, sausages, canned meat, ham, meatballs) contains a lot of carbohydrates, it is better to avoid such meat.


Fish. Fish and seafood are ideal for the ketogenic diet, especially oily fish such as salmon. However, avoid breading, as it contains carbohydrates. Caught wild fish is the best choice.


Eggs on the keto diet are suitable for consumption in any form - boiled, fried eggs, omelet. Buying organic eggs may be the most rewarding option.


Oils and sauces
Do not be afraid to consume fats on a keto diet, most calories on a ketogenic diet should come from fats. Most likely, you will get the bulk of fats from natural sources, such as meat, fish, eggs.

Nevertheless, also use oil in cooking: butter or coconut oil, you can add a lot of olive oil to salads. Fatty sauces such as Bearn or garlic sauces are allowed.

You may want to read:
What about vegetable, nut, and seed oil? It's a little more complicated question. Natural oils that have been around for thousands of years are generally safe and are used in the keto diet.

Do not be afraid to use pure olive oil, ghee, avocado oil, almond oil, peanut oil, sesame oil, fish oil – all oils that can be easily obtained by pressing, grinding, shaking, or separating at a low temperature.


Vegetable oils or seed oils created over the past 60 years, such as corn, soy, safflower, sunflower, and cottonseed oil, should be avoided because these oils are created by chemical extraction and industrial processes at high temperatures.


There is growing evidence that such oils can cause inflammation and even destroy the structure of cell membranes.

Vegetables are an excellent and delicious option for use on the ketogenic diet, vegetables are suitable both fresh and frozen.

Choose vegetables that grow above ground, especially leafy and green products: cauliflower and cabbage, avocado, broccoli, and zucchini.

Vegetables add more variety, flavor, and color to your keto dishes. Many people start eating more vegetables after becoming familiar with the keto diet, as vegetables replace pasta, rice, and potatoes.

Ground vegetables tend to contain fewer carbohydrates, so they are more suitable for the keto diet.

Underground vegetables, i.e. root vegetables, have more carbohydrates, so you should avoid them, especially potatoes and sweet potatoes (sweet potatoes).

A few words about onions: although it grows underground and contains a lot of carbohydrates, onions can still be used to give the dish a piquancy, so you can not eat too much of it.

However, beware of caramelized or fried onions. It is very easy to get carried away and eat much more than normal. But green onions or shallots in moderation are perfect for salads and a variety of dishes.

Any product consists of macronutrients-carbohydrates, proteins, and fats. Meat and most dairy products are mostly made up of protein or fat, but vegetables are made up of carbohydrates.

With a strict ketogenic diet, where carbohydrates represent less than 5% of the daily caloric content, it is very important to understand which vegetables are the lowest-carb, especially if you want to ensure that your daily diet contains no more than 20 grams of carbohydrates.

On the keto diet, vegetables containing less than 5 grams of carbohydrates can be eaten relatively freely - with butter and other sauces.


It is extremely difficult to overdo it with carbohydrates, choosing spinach, zucchini, lettuce, asparagus. They can definitely be called the main keto vegetables.

You may want to read:
Can I eat honey on the keto diet?
A little more careful you should be with vegetables that contain more carbohydrates, such as bell peppers (especially red and yellow), Brussels sprouts, and string beans. And here size can play a significant role. For example, one average bell pepper contains from 4 to 7 grams of carbohydrates.

Although tomatoes are technically considered fruits, they can be included in the keto diet. But again, be careful, because the carb content in them is slightly higher, and in combination with other products, they can easily take you far beyond the 20 grams of carbohydrates per day.

If you choose a more moderate low-carb diet, where more than 20 grams of carbohydrates per day are allowed, then you can safely eat as many ground vegetables as you wish.
Forbidden foods on the keto diet
Foods with a lot of sugar and starch. As you know, these products contain a lot of carbohydrates:
bread, pasta, rice, and potatoes.

It is extremely important to completely avoid sweet and processed foods (crackers, chips, etc.) on the keto diet. Food should contain a lot of fat and a moderate amount of protein. To maintain ketosis, the body needs to take about 5% of energy from carbohydrates, 15-25% from protein, and 75% from fat.

Sugar on the keto diet is strictly prohibited. Eliminate sweet soda (Coca-Cola, Pepsi, Sprite, Fanta), fruit juices, sports drinks, and vitamin water. Avoid sweets: sweets, cakes, cookies, chocolate bars, donuts, ice cream, and breakfast cereal.

Read labels on products and find out their sugar content, especially in sauces, condiments, and drinks. Honey and all kinds of syrups are also sugars. Ideally, try to avoid or limit artificial sweeteners.

Starch. On a keto diet, you can't eat foods with the content of starch - bread, pasta, rice, potatoes, chips, porridge, cereal, and so on. Avoid whole grains. Vegetable legumes in the form of grains or beans (peas, beans, soybeans, lentils) and in the form of green pods (green beans, peas) contain a lot of carbohydrates. Small amounts of certain root crops (other than potatoes) may be tolerated.

Beer is a "liquid bread", beer contains a lot of carbohydrates quickly absorbed by the body and is categorically not suitable for a keto diet.
There are two basic rules for choosing vegetables that are low in carbohydrates and suitable for keto diets:

• Vegetables with leaves, ie all kinds of salad, spinach, etc.

• Green vegetables usually have fewer carbohydrates. For example, white cabbage (which, as we all know, is nevertheless closer in color to green than white) has fewer carbohydrates than red cabbage. Also, green bell peppers contain fewer carbohydrates than red or yellow.

You may want to read:
How Ketones Prevent Aging
Vegetables and fat

Keto vegetables can be used as the basis for fats, cooking them in butter. Better yet, fry in pork fat, coconut oil, avocado oil, or ghee. If you eat dairy products, season the vegetables with a creamy sauce made from heavy cream, cheese, and / or cream cheese.

Another easy way to add fat to vegetables is to season them with various sauces or just olive oil.

Keep in mind that if you have a lot of excess weight, then do not overdo it with such extra fats. Allow the body to burn excess fat, instead of adding it with food. In this case, just eat so much fat so as not to feel hunger.

There are two basic rules for choosing low-carb and keto-suitable vegetables:

• Vegetables with leaves, ie all kinds of salad, spinach, etc.
• Green vegetables usually have fewer carbohydrates.




The following are ten fantastic keto vegetables. They are not only low-carb but also very tasty and contain many nutrients.

The amount of carbohydrates is indicated per serving 100 grams.

1. Cauliflower - 3 g. The star of many keto recipes, cauliflower has a mild flavor and is very versatile. It is used as the basis for such popular keto dishes as cauliflower rice and cauliflower puree.

2. White cabbage - 3 g. Shy cabbage will certainly become a regular guest at your table when you try to fry it in butter or cook it based on our popular dish - fried cabbage in Asian style.

3. Avocado - 2 g. Technically, this is a fruit, but we do not think that this is a reason for moods, given how many nutrients and healthy fats are in these tasty fruits! Avocados can be eaten fresh, cooked with guacamole, or even baked. Definitely, this is one of the main keto products with a huge number of possible recipes.

4. Broccoli - 4 g. A universal, simple, and incredibly tasty substitute for pasta, rice, or potatoes. Broccoli can be boiled, steamed, fried in butter, baked under cheese, fried in breadcrumbs, and wrapped in bacon. There are so many variations that even the biggest opponent of broccoli can find something to taste.

5. Zucchini - 3 g. Do you miss the potatoes? Try fried zucchini or keto chips from zucchini. And if you have a spiralizer, we recommend that you try this great keto-carbonara. More recipes with zucchini here.

6. Spinach - 1 g. Containing incredibly few carbohydrates, spinach is one of the main keto vegetables. Add fresh spinach to salads, bake, stew in butter, or add to a creamy sauce.

7. Asparagus - 2 g. Very rich, nutritious, and low-carb asparagus seems to be created for such fatty sauces as hollandese and bearnese. Asparagus is an excellent keto product.

8. Kale (kale) - 3 g. Although kale contains more carbohydrates than spinach, it is also great for salads. It's also a great substitute for pasta.

9. String beans - 4 g. String beans can be steamed, fried, baked, or stewed. Besides, it goes well with bacon or butter.

10. Brussels sprouts - 5 g. These tiny heads of cabbage have a bright taste, especially if they are baked until crisp or seasoned with a spicy creamy sauce.

Even though all legumes grow above the surface of the earth, for example, peas, beans, lentils, as well as cereals: corn, and quinoa - they all contain a lot of carbohydrates and are poorly suited to a keto diet.

If you adhere to a strict keto-diet (no more than 20 grams of carbohydrates per day), then you should refuse such products.
Cereals and sugar
The numbers mean - the amount of carbohydrates / 100 grams. Although wheat grows above the surface of the earth, it does not apply to vegetables.

This is a cereal crop and has a lot of carbohydrates. Everything made from wheat flour - bread, cereal, pasta, pastries, etc. - contains carbohydrates that slow down the process of losing weight. Avoid whole grains on keto.

Most of the sugar is also extracted from plants - sugarcane, beets, or corn (high fructose corn syrup). These foods do not fit into the keto diet at all.

For example, high fructose corn syrup, which is added to many foods such as soft drinks, sweets, and cookies, can be even worse than regular sugar. In such a syrup, there are too many carbohydrates not suitable for the keto diet. The same goes for honey and maple syrup.

Milk products
Butter, high fat cheese are good for the keto diet, and high-fat yogurts can be consumed in moderation. Thick cream is good for cooking.

Avoid drinking milk, as it contains a lot of milk sugar (one glass of milk = 15 grams of carbohydrates), but you can add a small portion of milk to coffee. Be sure to avoid latte coffee (18 grams of carbohydrates).

Nuts
Nuts on the keto diet can be consumed in moderation, but be careful when using nuts as a snack, as it is very easy to eat much more than you need to satisfy.

Also, keep in mind that cashews are relatively high-carb; pecans, walnuts, coconuts, almonds, hazelnuts, macadamia nuts are best.

Berries
On the keto diet, berries with low fructose content are acceptable in moderation. Whipped cream berries are a popular keto dessert.

Spices & Seasonings
Allowed: apple cider vinegar, Ceylon cinnamon, cilantro, cocoa powder, coconut amino acids (if there is intolerance), ginger, mustard, oregano, parsley, rosemary, sea salt, thyme, turmeric, vanilla in pods.

Beware of added sugar and high glycemic sweeteners found in ready-made mixes of spices or seasonings. Carefully study the composition of such seasonings, they should not contain such additives as sugar, milk powder, potato or corn starch, or monosodium glutamate.

By the way, you can cook any ready-made seasoning mixture yourself as well. Salt often contains fillers that are not indicated on the package and prevent caking / sticking of the substance, so it is better to choose the sea or Himalayan pink salt.


Drinks
Drink water, coffee, tea, or dry red wine (allowed in small quantities).

• Water - the most basic drink on the keto diet, you can drink ordinary boiled or carbonated water. Natural flavors such as chopped cucumbers, lemons, or limes can be added to a drink with water. If you experience a headache or symptoms of keto-flu, add a little salt to the water.

• Coffee - without adding sugar. To get extra energy from fats, add butter or coconut oil to coffee.

• Tea - a good drink on the keto diet, whether it is black, green, mint, or herbal tea - do not hesitate to drink a variety of teas. Sugar should not be added to tea.

• Bone broth - hearty, rich in nutrients and easy to prepare - homemade bone broth - an excellent drink on the ketogenic diet. Add a little butter to the broth for extra energy.


You may want to read:
Honest Review on the «Game changers» film. Do not be fooled by the vegan business industry
Focus on minimally processed, good quality, natural food! Ideally, the products you buy should not even contain a list of ingredients, well, or this list should be short.

Naturally unprocessed industrial food is what our ancestors ate for millions of years, and to which the human body has adapted evolutionarily. Processed foods, such as refined carbohydrates, increase the absorption rate and reduce the number of nutrients in food. Thus, it turns out unnatural food for our body. And thus, there is a risk of side effects for health.
How much fat should you eat on the keto diet?
There are two main sources of energy in the body: carbohydrates and fats. Remove most carbohydrates, and the body will switch to burning fat for energy.

Fat burning comes from the fat stores of your body and the fat from your food (for example, butter or olive oil).

How much fat should you eat? It is necessary to focus on your well-being and evaluate the satisfaction of your hunger. Ultra-high fat intake slows down weight loss, but if you eat too little fat, you will feel tired and hungry. Take as much fat as you need to feel good.
How low in carbohydrates is the keto diet?
The fewer carbohydrates you consume, the higher the nutritional effectiveness to suppress appetite, reduce body weight, and control type 2 diabetes.

The keto diet is a strict low-carb diet that contains less than 20 grams of carbohydrates per day and therefore is highly effective.
Keto Diet Health Benefits
The benefits of a ketogenic diet are similar to other low-carb and high-fat diets, but the keto diet is the most effective and capable of delivering maximum results.
Loss of excess body weight
A keto diet turns your body into a fat-burning machine. The process of losing weight is significantly accelerated due to a decrease in the level of insulin in the blood - the hormone for the accumulation of subcutaneous fat.

More than 30 scientific studies show that the ketogenic diet leads to more effective weight loss compared to other types of diets.
Decreased appetite
The keto diet can improve appetite control. The feeling of hunger decreases sharply, which is confirmed by scientific research. Keto-diet allows you to eat less food and reduce body weight without much difficulty.

On the keto diet, it is enough for many to eat only twice a day (with skipping breakfast), and some even reduce the number of meals to once a day without discomfort for themselves.

Therefore, an additional bonus of the keto diet can be saving time and money due to the lack of frequent snacks throughout the day.
Blood glucose lowering and type 2 diabetes control
The ketogenic diet lowers blood glucose levels, therefore, it is one of the possible mechanisms for controlling type 2 diabetes mellitus and the preceding disorders of carbohydrate metabolism ("prediabetes").

Against the background of the keto diet, the need for sugar-lowering drugs is highly likely to decrease.
Health improvement
Many scientific studies show that a ketogenic diet is a non-drug method for treating some risk factors for cardiovascular diseases: it improves blood pressure control and reduces the content of "bad" cholesterol in the blood.
Energy and intellectual abilities
Some people use the ketogenic diet specifically to increase mental performance. In animal studies, data have been demonstrated that the state of ketosis during fasting provides benefits such as resistance to stress, trauma, and disease.

An explanation was proposed for this: mammals that have succeeded in surviving for long periods without food have adapted to the optimal functioning of the brain precisely in the state of ketosis. The ketogenic diet improves concentration and mental clarity.
Digestion improvement
The keto diet can lead to better digestion, less gas and flatulence, less cramping and abdominal pain, and relieve symptoms of irritable bowel syndrome. For some people, this becomes the most significant benefit of the diet, and it takes only a few days to develop this effect.
Physical strength increase
The ketogenic diet increases physical endurance, open access to a large amount of energy from fat depots.

The body's glucose stores, stored in the liver and muscles as glycogen, "burn out" in just a couple of hours of intense training, while fat stores have enough energy to nourish the body for weeks.
Therapy for Epilepsy Symptoms
Initially, this food system was generally developed for people with epilepsy (primarily for children with resistance to therapy), and studies have shown that the frequency of attacks on such a diet becomes less.

This is probably due to the ability of ketone bodies to inhibit foci of excitation in the brain. Traditionally, therapy has been used mainly for children, but in recent years it has been successfully applied to adults.

Also, the ketogenic diet showed good results in Alzheimer's, Parkinson's disease, autism spectrum disorders, amyotrophic lateral sclerosis.
Other benefits of the keto diet
In addition to the benefits listed above, the keto diet helps treat acne and can alleviate the symptoms of polycystic ovary syndrome.
How to quickly get into ketosis?
Here are the seven most important things to get into ketosis, ranging from the most important to the less important:


1. Limit your carbohydrate intake to 20 grams per day or less: follow a strict low-carb diet.
Often, carbohydrate restriction alone is enough to bring the body into a state of ketosis. But the rest of the list will help you achieve even greater success.


2. Limit protein to moderate amounts.
The keto diet is not a protein diet. This is because excess protein in the body turns into glucose. A common mistake that prevents people from ketosis is eating too much protein.


3. Consume enough fat.
The keto diet is a high-fat diet. There is a difference between the keto diet and starvation, which also leads to ketosis: diets are easier to follow for a longer time.

With prolonged starvation, we can feel fatigue and hunger, while the ketogenic diet is more stable and allows us to maintain good health. If you are hungry during the keto diet, you should add more fat to your food (for example, more oil).


4. Avoid snacks when you do not feel severe hunger. If you eat more often than necessary, just for fun and because there is food around, this will lead to a decrease in ketosis and slow down weight loss.


5. If necessary, you can add interval fasting. For example, skip breakfast and eat only during the eight-hour window, starving for the remaining sixteen hours (Scheme 16: 8). It is very effective in increasing ketone levels, as well as accelerating weight loss and controlling type 2 diabetes.


6. Add exercise - adding any kind of physical activity can significantly increase the level of ketones in the body. Exercise also helps accelerate weight loss and improve control of type 2 diabetes.


7. Sleep enough and reduce stress. Most people require at least 7 hours of sleep per day. Lack of sleep can make it harder to follow a keto diet because of its effect on eating behavior, reduce self-control, and make you pliable temptations of unnecessary excess food.

So, to enter ketosis, you must limit your carbohydrate intake to a low level, preferably below 20 grams per day.
How to understand that you are in ketosis?
The level of ketone bodies can be measured by taking a urine, blood, or breath test. But there are also clear symptoms:


Dry mouth and constant thirst. If you do not drink enough water and do not get enough electrolytes, such as salt, you may feel a dry mouth. Try drinking 1-2 cups of broth per day, plus as much water as you need. You may also feel a metallic taste in your mouth.

Frequent urination. Ketone bodies with increasing their concentration can cross the renal threshold and enter the urine, which allows testing for the determination of ketosis using test strips for urine. ​​​Because with ketone bodies, more water is "drawn" into the urine along an osmotic gradient, urination becomes more frequent and thirst increases.

"Keto breath"
A ketone body, called acetone, enters the exhaled air. Because of it, a person's breath may smell like "fruit" or may be similar in smell to nail polish remover. The same smell can come from sweat. After exiting the state of ketosis, the smell disappears.


Other more pleasant symptoms include:

Decreased appetite.
Many people have noticed a marked decrease in appetite on a keto diet and feel great when they eat once or twice a day, and as a result, they can automatically switch to interval fasting, which saves time and money, and also accelerates weight loss.

​Increasing energy levels
After several days of feeling tired ("keto-flu"), many people experience a clear increase in energy levels, which can be manifested in increased clarity of thinking, instead of "blurred reason" or even a feeling of euphoria.

Ketosis Tracking

There are three ways to measure ketones:
• Test strips for urine analysis
• Exhaled Ketone Level Analyzer
• Blood ketone level meter

How to achieve optimal levels of ketosis?

Entering a state of ketosis on the ketogenic diet is not a choice between black or white. That is, one cannot be completely "in ketosis" or completely "not in ketosis".
Practical recommendations for the keto diet
Breakfast
What kind of food should you start your day with? If you like scrambled eggs with bacon - this is a good option. If not, then there are keto breakfasts that do not contain eggs at all.

You were told that breakfast is the most important meal of the day? This is a common misconception, but it is still a myth. If you are not hungry after waking up, do not be afraid to skip breakfast or just have a cup of coffee or tea.

A decrease in hunger is characteristic of a keto diet, so do not worry about skipping any meal. If you are hungry after waking up but are limited in time, there are many delicious, satisfying, and quick to prepare keto breakfasts.

Lunch and dinner
But what is there for lunch or dinner? Daily meal planning can be simple. The meat of animals and poultry or fish with salad, or vegetables with ghee, cheese, and delicious sauce.

How to consume more fat
Although the idea of limiting fat in diets has prevailed for a long time, modern studies show that low-carb and ketogenic diets can also be effective. The fats contained in foods contribute to better saturation and make the taste of food great.

If you constantly feel hunger on the keto diet, then consume more fats.


Don't trust low carbohydrate refined products

Do not trust creative marketing about special "low carb" foods. Remember that an effective keto diet does not include refined and industrial processed foods. Unfortunately, misleading advertisements that actually advertise unhealthy carbohydrate foods under the guise of "low carbohydrate" foods are common.

Possible side effects of the keto diet
Keto-flu
Most people experience the symptoms of "keto flu." Here is a list of what you can feel - to a greater or lesser extent - a few days after the start of the keto diet:
•headache
•datigue
•dizziness
• mild nausea
• diffuse attention
• lack of motivation
•Irritability

Symptoms usually disappear within a week when your body adapts to receive energy from fats. The cause of "keto flu" is not exactly known.

There are suggestions that these manifestations are associated with dehydration against the background of increased formation and excretion of ketone bodies.

Also among the possible causes are called an immunological reaction and a change in the intestinal microbiota. As a rule, manifestations of "keto-flu" affect people whose food was relatively "unhealthy" (in particular, it contained a lot of fast-digesting carbohydrates).

​​​​​​​You can reduce and even eliminate these symptoms by making sure that you are getting enough fluid and salt. An easy way to do this is to drink a cup of broth 1-2 times a day.