To be honest, I'm not afraid of "E" on the packaging.

Is natural food better? Of course, it's obvious. It is really better to eat the least processed food.

But I live in a megalopolis and try to think realistically. My food is from stores, so it is completely unproductive to breed an extra panic.

I just came across this lecture by Dr. Catherine Reid at TEDxYouth, and I had to think again.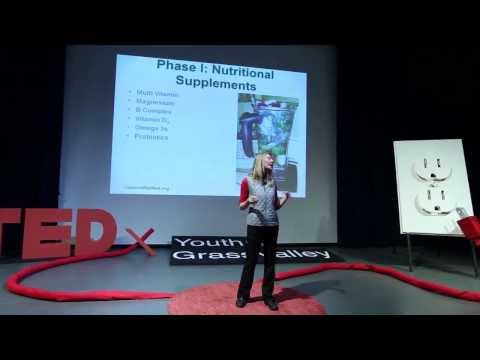 Click on the image to see Video:
What are we eating?: Dr. Katherine Reid at [email protected]
Katherine Reid is a biochemist. Her daughter Brooke was diagnosed with autism at the age of 3. This was a real tragedy for parents because Brooke is the fifth child in a family where autism has not been encountered before.

They tried all the treatments. A special school, classes with specialists, medicines.

But changes in food were most effective.
What diet overcame autism
First, Katherine increased the number of vitamins, minerals, omega-3 fatty acids, and probiotics in her daughter's food. To do this, she used food additives and "organic" food: fresh vegetables, herbs, nuts.

After a few days, Brooke started looking people in the eye. She began to respond to her name.

Brooke's successful therapy began with vegetable smoothies — for vitamins and minerals

After another 3 weeks, they eliminated gluten (wheat and other grains) and casein (dairy products) for 6 months. Both are proteins associated with many diseases and allergic reactions.


Improvements in the communications continued. She started playing with other children.


But some deviations in her behavior did not recede. The whole family suffered from what they called the "Yes-No" circle, when Brooke was in a state similar to tantrums that lasted for several hours, when she couldn't decide "Yes" or "o" — for example, whether to put a blanket on the bed.

Since the diet provided major improvements, Katherine continued her research. And she was very interested in the ubiquitous flavor enhancer — monosodium glutamate (MSG).
Glutamate
Monosodium glutamate is glutamate + sodium.

With sodium, everything is clear — it is a vital mineral (we get it with table salt).

But glutamate is a completely different matter. In general, we produce it ourselves, and it plays an important role as a neurotransmitter — it "excites" the nervous system.

And we also get it from food.

Glutamate is found in proteins (it is an amino acid). And when we eat them, glutamate is gradually absorbed and gets into our blood, without causing a noticeable effect. What's wrong with gluten and casein? The content of glutamate in them is 25% higher than in other proteins.

And monosodium glutamate generally delivers glutamate to our body in a large dose and free of protein bonds, which is why it is much faster absorbed.

Monosodium glutamate is not only a flavor enhancer. Glutamate is an "excitatory" neurotransmitter.


The same is true for food that has been processed industrially, such as ultra-pasteurized, hydrolyzed, or degreased. These processes break down some of the proteins into their constituent amino acids and "release" glutamate.


It turns out that due to the addition of monosodium glutamate and processing, many products have an overabundance of free glutamate.

An ordinary person might not notice anything. A person suffering from a neurological disorder such as autism or epilepsy gets a pathogen — too much, too fast.
The decisive battle with monosodium glutamate worked
As soon as they went on a diet with radically reduced levels of monosodium glutamate, gluten, casein, and other processed proteins, Brooke stopped having "Yes-No" tantrums.

Her ability to socialize aligned with her peers.

She stopped being considered special and left a specialized school for children with autism. "This is probably the only situation where parents were happy that the child dropped out of school," says Katherine about her daughter's transition to a regular school.
Autism and its relationship to metabolism
Can you imagine? Autism was cured by foods. It may sound like a beautiful story for a talk show, but as you can see, there is a perfectly logical explanation. After all, we are just a big pile of chemical compounds and their mutual reactions.

Autism spectrum disorders (ASD) do correlate with the metabolism of children and even their parents. For example, women with type 1 and type 2 diabetes are more likely to have children with autism.


The ketogenic diet in one study showed even better results in reducing the manifestations of ASD than the gluten-free and casein-free diet.


There are many other publications that the ketogenic diet allows people with autism to move along the spectrum towards a healthy person.

The first researchers of the ketogenic diet wrote about improving children's behavior in patients with epilepsy 100 years ago.

The benefits of the keto diet for some children with autism may be due to both the lack of gluten and the fact that it is (so far) difficult to find keto fast food and ready-to-eat foods on store shelves, so people on a low-carb, high-fat diet eat more unprocessed food and get less free glutamate by definition.


Don't forget that we are our metabolism. What we eat can affect not only our weight but, it turns out, even our behavior and ability to communicate with other people.


Try to eat processed food less often. After all, strange changes in mood after certain foods can be caused by a direct effect on the nervous system.