The suspicion that something is wrong with sugar first crept into my mind about 10 years ago. Years later, I came across an article about the effect of sugar on mood and moodiness in children.

Then there was the documentary "Sugar: The Bitter Truth" (see below). This documentary can really change your life.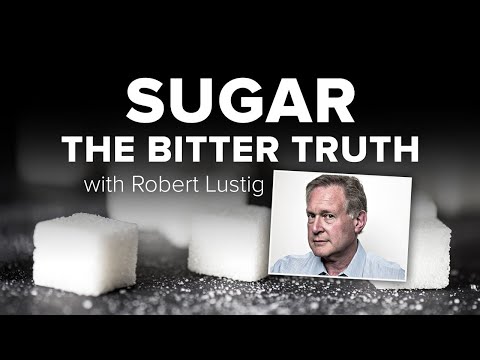 Click on the image to see Video:
Sugar: The Bitter Truth
Well, then I delved into this topic very seriously.

My eldest son was allergic and his diet was very strict. But at the same time, he did not have tantrums that children drink juice from a box, suck Chupa-Chups or eat Kinder Joy, and he did not. There was a calm acceptance and understanding that it is very harmful.

And closer to the age of five, he went on a week-long trip with relatives, returning from there a completely different child.

Instead of a happy cry from meeting his mother, he rushed past me with wild eyes and a yell of " SUGAR!!!!" and with shaking hands, he opened a box of refined sugar and popped a couple of cubes into his mouth.

Now cottage cheese with banana or raisins were rejected and immediately it was necessary to sprinkle it with "SUGAR !!!!", otherwise it's not tasty for him.

I couldn't imagine a time worse than the New year holidays. Candy and sweets, EVERYWHERE!!!

And all agreements about just one candy were immediately forgotten in hysterical demands for more and more.

Now many people will object to me and say " ... of course, for so many years to keep a child without sweets..."

No, no, and no – I will answer you!

Now you also know that sugar cravings are regulated by the same parts of the brain (responsible for pleasure) as when using drugs.


And sugar, like all drugs, causes the production of dopamine, which creates this feeling of pleasure! And the brain, having secured this chain, demands and demands the continuation of the banquet.


It was this argument that was decisive for me! I just burned all the bridges, stopped eating sugar in one day. There was a complete rejection of sugar!

It was an unreal hard period for me, really similar to the withdrawal of drug addicts. Just waiting out, overpowering myself for 3-4 weeks, I stopped feeling the need to eat cake, ice cream, drink lemonade, or coffee with syrup. In the most difficult moments, close to a breakdown, I was reminded of dopamine and the veil fell.

In this case, whether or not to eat sugar is a personal choice for everyone. Just like smoking, drinking, or being free of addictions. Moreover, this choice was made deliberately.

But as for the unconscious craving for sweets: hormone spikes, vitamin deficiencies, stress – this is a completely different article!